Posted on
Pound Puppies Works To Reduce Strays In Area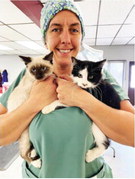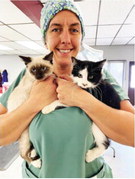 Wolf Point Pound Puppies assists with the stray dog and cat populations in the area, as well as helping area pet owners with basic costs when necessary.
So far this year, WPPP has spayed/neutered 77 animals in the immediate area.
"We have 21 scheduled in the next week," volunteer Tina BetsHisMedicine reports.
Longtime WPPP contributing vet Dr. Heather Grimm recently leased the group's former brick and mortar location in Wolf Point next to Old Town Grill and has started seeing patients.
The group is a non-profit organization and does not pay employees. All of the group's staff are volunteer based, including animal fosters, transportation specialists, rescuers and people cleaning up at the pound and other areas badly in need upkeep. BetsHisMedicine said the group is currently caring for multiple litters of puppies. They will all be available for adoption via the group's website, wolfpointpoundpuppies. org/adoptable- animals. "We currently have three litters of pups in our care," said BetsHisMedicine. "Mom and two of the pups were killed crossing the highway near the roundabout in Poplar."
Anyone interested in donating to the organization can find more information by calling 406-650-2177. You can also visit the "pool our resources" fundraiser currently being hosted at Independence Bank in Poplar.
"They actually have a kids wading pool in their lobby for people to drop donations," said BetsHisMedicine.
Pound Puppies was started to rescue local dogs from the Wolf Point area. Their mission is get animals out of the pound and into a "furever home."