Posted on
Poplar Boys Edge Glasgow In Overtime For Third Place At District 2B Tournament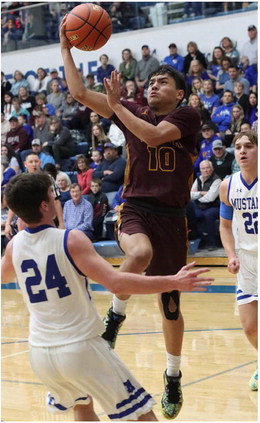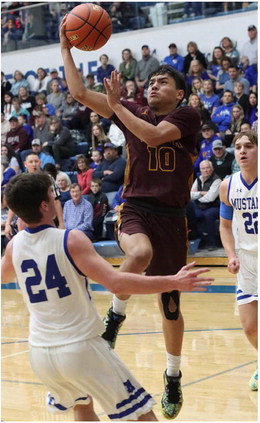 The Poplar Indians defeated Glasgow in overtime, 5655, to earn third place in the District 2B boys' basketball tournament held in Malta on Saturday, Feb. 18.
Two free throws by Delray Lilley with 2.5 seconds left were the difference. After Glasgow led by a 55-54 margin, Lilley was fouled and sent to the foul stripe.
Lilley intercepted Glasgow's inbounds pass to end the contest.
The Indians outscored Glasgow by a 7-6 margin in the extra period. Also scoring for Poplar in overtime were Allen Russell with a basket and Geordy Medicine Cloud with a free throw.
After Poplar held a 22-21 half-time lead, the Indians struck for 20 points in the third quarter to take a 42-30 lead. William Youngman connected on two three-pointers and Medicine Cloud scored seven points in the quarter.
The Scotties came back with 19 points in the fourth quarter for a 49-49 deadlock at the end of regulation.
Top scorers for the Indians were Medicine Cloud with 16, Ricker with 15 and Lilley with 14 points.
Also scoring were Youngman with six and Russell with five points.
Wyatt Babb led Glasgow with 23 points. Keigan Ingram added 10 points.