Posted on
Bulldogs Lose Game To Plentywood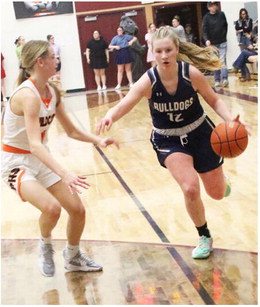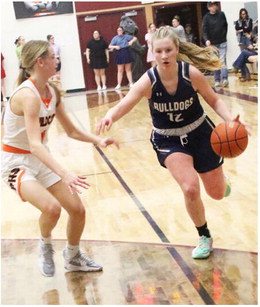 Bainville's girls played strong defense in the first half, but the Bulldogs lost to top-seeded Plentywood, 5023, at the District 2C tourney on Thursday, Feb. 17.
The Bulldogs tied the contest at 4-4 on a hoop by Miah Pippenger midway into the first quarter. Plentywood struck back with the next 11 points including six points by Emma Brensdal and five points by Mallory Tommerup. Bainville's Elsie Wilson hit a free throw to end the quarter at 15-5.
Bainville battled back to 1812 on a nice drive by Wilson with 3:47 left in the second quarter, but the Wildcats tallied the game's next 12 points for a 30-12 advantage at intermission. Two three-pointers by Tommerup highlighted the streak.
Plentywood led 34-17 at the end of the third quarter and then scored 16 points in the final period.
Top scorer for Bainville was Wilson with 11 points. Also scoring were M. Pippenger with four, Kendra Romo with four, Lila Butikofer with two and Hailey Berwick with one point.
Kendra Romo finished with 11 rebounds. Butikofer had three steals.
Leading Plentywood were Brensdal with 19 and Tommerup with 18 points. Brensdal had 19 rebounds.