Posted on
Wolves Fight Off Scobey In Overtime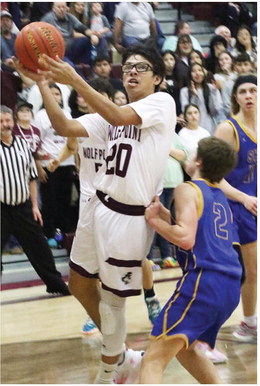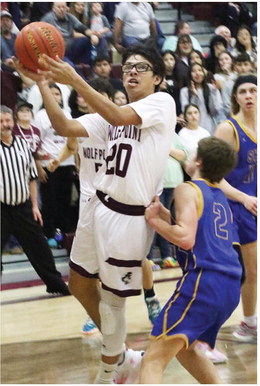 It was a great way to get ready for the post-season. Wolf Point's boys' basketball team competed against a determined Scobey team in a packed gym and the Wolves emerged with a 74-62 overtime victory on Saturday, Feb. 11, to cap the regular season.
After regulation ended in a 57-57 deadline, Scobey took a quick 59-57 lead on a pair of free throws by Luke Cromwell. The Wolves, however, dominated the rest of the extra period.
A basket by Lennoxx Lilley, off a pass from Kraven Silk, tied the contest at the three-minute mark. Lilley then scored again, this time off an assist from Kelby Bauer, for a 61-59 lead.
Two free tosses by Juliun Benson after a steal increased the margin to four points. Lilley then kept his scoring outburst going by putting in a basket off a rebound with 1:38 remaining.
Baskets by Peyton Summers and Benson increased the gap to 69-59 with 58 seconds remaining. Scobey's John Carney connected on a three-pointer, but free throws by Benson and Bauer put the contest away.
Wolf Point's top scorers were Silk with 22 and Benson with 21 points. Bauer also reaching double figures with 10 points.
Rounding out Wolf Point's scoring were Lilley with eight, Gaige Bushman with seven and Summers with six.
Leading the Spartans were Braxton Wolfe with 21 and Carney with 20 points.
The Wolves trailed 25-21 at the half, but outstanding play by Silk led the Wolves to a 2827 lead as the senior tallied seven straight points.
Late in the third quarter, Wolf Point struck for nine straight points on five points by Silk, a hoop by Bushman and a coast-tocoast drive by Benson for a 42-35 lead. The Wolves held a 44-41 lead at the end of the quarter.
After a three-pointer by Carney put the Spartans ahead 57-52 with 4:01 left, the Wolves battled back on solid defense and the scoring of Benson. A basket off a rebound by Benson tied the game at 57-57 with 38 seconds left. The Spartans missed on a couple of shot attempts during the final 10 seconds of regulation.
The District 2B tournament will start on Thursday, Feb. 16, in Malta.