Posted on
Lustre News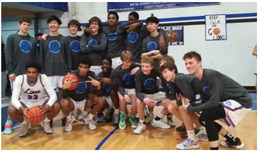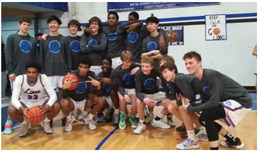 Lustre alumni and former staff came from as far away as Missoula and as near as Lambert to see Friday's final home game against North Country. All enjoyed watching them play and are enriched by each of our students as they grow up.
The Lustre Christian High School students who were chosen to participate in the honors band and choir in Glasgow traveled in on a very cold Monday, Jan. 30. They were Rachel Pew, Hannah Morasco and Anna Teichroew in choir and Abby Olfert (trumpet), Grace Brown (trumpet), Mason Hilkemann (alto saxophone) and Nathan Fast (trombone). They practiced during the day and gave a concert in the evening. The band played The Rowan Tree, Zoot Suit Riot and Snake Charmer. The choir performed "Music Lead the Way," the girls sang Tottoyo.
The guys did a number called Prairie Lullaby. The choir sang Circle of Life and ended with Adoromus Te.
The pep band directed by Dan Marasco and he was joined by alumni who have kept their instruments up. Their music has encouraged and entertained and has kept us looking forward to good citizenship and excellent musicianship. It is fun to see the effort of those students hurrying to play who have also been playing on the sports teams.
Feb. 10 was Senior Night for nine students graduating in spring: Hope Marottek, Rodes Gebreyohannes, Sally Arai, Mana Okamoto, Jasiah Hambira, Braden Ewing, Elijah Lenihan, Alex Chen and Bryan Chen. They were honored at the Lustre-North Country match. Ron Reddig presented them in order of how long they have been attending Lustre Christian High School alongside a brief commentary of accomplishments and favorite memories. Presented first were Rodas Gebreyohannes, Sally Arai and Mana Okamoto, accompanied by their dorm parents, Bernie and Debbie Swartzenberger. They came to Lustre from Ethiopia and Japan in the last two years. Then, Hope Marottek, accompanied by her parents Charles and Stephanie Marottek whose family moved to the community from North Dakota awhile back. Students from Taiwan who have been at Lustre since grade 10, Bryan Chen and Alex Chen, were accompanied by Dawson and Alicia Olfert. Braden Ewing was accompanied by coach Randy and Becca Reddig and family. Jasiah Hambira chose Marty and Angie Smith. The final graduate to be presented was Elijah Lenihan, son of Pastor Frank and Debbie Lenihan.
The basketball teams played hard and North Country girls won (they are top in the standings, without a loss), while the Lustre Lion fellows won handily.
Proverbs says to "let another praise you and not your own mouth." So, let me say it this time: After their victory over Dodson Saturday, the LCHS boys' team goes into district tournament Friday undefeated. The girls play on Wednesday, Feb. 15, in Glasgow. The boys play Friday, Feb 18. Your fans have enjoyed the season with you and wish the teams the best. All are hoping to find you at divisionals in Wolf Point on March 1-4, but are proud more of your sportsmanship and unselfish playing.