Posted on
Lady Wolves Beat Glendive In Overtime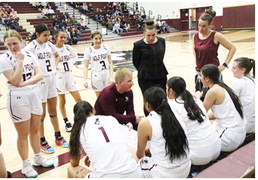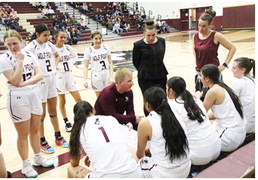 Clutch free-throw shooting and a couple key defensive plays were the difference in overtime as Wolf Point edged Glendive, 46-43, in girls' basketball action on Thursday, Feb. 9.
After regulation ended in a 38-38 deadlock, Wolf Point struck first in overtime when J'Elle Garfield scored on a drive.
Glendive's Mallory Robinson hit a three-pointer with 2:43 left, but the Wolves received a lift when Katelyn MacDonald took a charge with 1:47 remaining. Sierra Hamilton made two free throws to put the Wolves up, 42-41, with 1:25 remaining.
After the Red Devils regained the lead on an inside hoop by Robinson, Hamilton connected on two more free throws to put Wolf Point ahead 44-43 with 34 seconds left.
MacDonald, a senior, then came through by drawing another charging call against the Red Devils. Two free tosses by Garfield gave the Wolves a 46-43 advantage with 10 seconds left.
Glendive's final three-point attempt was partially blocked by MacDonald.
Top scorers for Wolf Point were Hamilton with 15 and Garfield with 14 points. KJ St. Marks hit three three-pointers for her nine points.
Also scoring were Mahala Moran with five and Kashlyn Speak Thunder with three points.
Leading the Red Devils were Robinson with 19 and Mataya Tipton with 10 points.
Three-pointers by St. Marks and Moran led the Wolves to an early 8-2 lead, but Glendive held an 11-9 advantage at the end of the opening quarter.
The Wolves trailed by a 2016 half-time margin, but the scoring of Garland led the way to a 27-24 lead to close the third quarter.
A basket by Hamilton, off an assist from Garfield, and a 12-footer by Garfield put the Wolves ahead 35-28 with six minutes remaining. A free throw by Hamilton was good for a 38-33 lead with 3;28 left, but the Red Devils battled back with the last five points of regulation.