Posted on
Froid/Lake Girls Surprise Culbertson, 55-48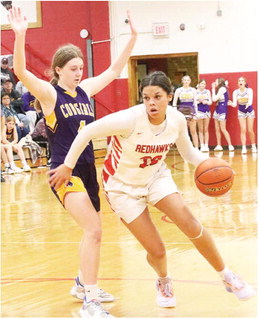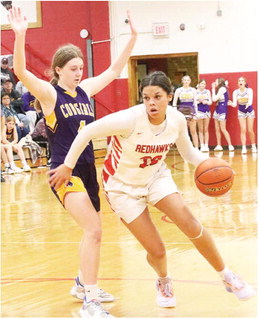 Dasani Nesbit didn't only score a career high of 29 points, but the senior stepped up when the game was on the line in Froid/Lake's 55-48 home girls' basketball win over Culbertson on Friday, Feb. 10.
With the Red Hawks ahead by only a 46-44 margin and less than four minutes to play in the league contest, Nesbit hit a free throw and then drove in for a basket to increase the gap to 49-44 with 2:43 left.
The Cowgirls stayed alive on a pair of free throws by Megan Granbois, but two straight baskets by Nesbit lifted Froid/Lake to a 53-46 lead with only 1:10 remaining. After Culbertson's Alicyn Ator hit a 14-footer, Nesbit sank two free throws to end the scoring.
Reaching double figures for the Red Hawks were Nesbit with 19 and Baylee Davidson with 11 points.
Also scoring were Mara Salvevold with nine, Jaeleigh Davidson with four and Isabelle Nordwick with two.
Leading the Cowgirls were Granbois with 15, Destiny Thompson with 13 and Makena Hauge with 13 points. Alicyn Ator had three while Ayden Ator and Perla Burciaga added two points each.
The Red Hawks jumped out to a 16-11 lead in the first quarter and went up 23-13 on a 14-footer by Nesbit at the 5:31 mark of the second period. The scoring of Granbois and Thompson pulled Culbertson to 25-19, but Nesbit then canned a three-pointer. Froid/Lake held a 28-22 halftime advantage.
Five straight points by Hauge and a free throw by Granbois cut the margin to one point in the third quarter. Three free throws by Thompson put Culbertson in the lead.
Froid/Lake used three-pointers by B. Davidson and Salvevold to regain the lead and then held on to a 39-37 advantage to end the quarter.
Another three-pointer by B. Davidson and a baseline shot by Salvevold produced a 44-38 lead for the Red Hawks with six minutes left. The Cowgirls responded with six of the next eight points on two free throws by Hauge and a pair of hoops by Granbois for a 46-44 game with 3:47 left.
Nesbit
Froid/Lake's senior Dasani Nesbit looks to score against Culbertson.
(Photo by Bill Vander Weele)