Posted on
Lady Wolves Edge Sidney by 60-54 Final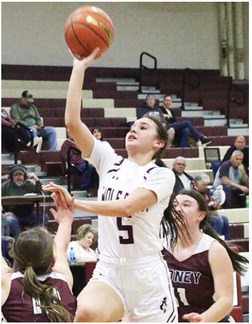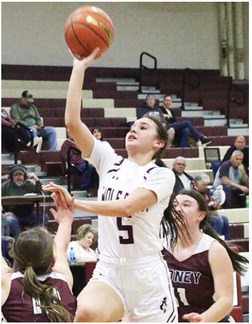 submitted)
Wolf Point's girls' basketball team fought off Sidney, 60-54, at home on Tuesday, Jan. 31.
Ahead by a 42-36 margin with five minutes left, the Wolves were able to increase the gap to 47-36 when Azalei Ackerman scored off a pass from Katelyn MacDonald and KJ St. Marks canned a three-pointer.
The Eagles kept battling, but a hoop by Mahala Moran off a pass from Juellz Bauer and a free throw by Keeley Blount-Henderson put the lead at 56-45 with 1:23 remaining.
Sidney didn't go away as free tosses by Leah Entz and Ave' Norby closed the gap to 56-50 with still 55 seconds to play. Wolf Point's Sierra Hamilton then stepped up with three free throws to put the Wolves up 59-52 with only 18 seconds remaining.
Leading the Wolves to the non-conference victory were Hamilton with 21, St. Marks with 18 and Blount-Henderson with 11 points.
Also scoring were J'Elle Garfield with six, MacDonald with two, Moran with two, Ackerman with two and Kaylee Johnson with one point.
Top scorers for Sidney were Sophie Peters with 12, Kendyl Wacha with nine and Entz with eight.
The Wolves, behind eight points by Hamilton, jumped out to a 12-0 advantage.
Wolf Point led 19-10 at the end of the opening quarter and 22-10 when St. Marks hit a three-pointer to open the second period.
A 14-footer by Garfield put the margin at 28-16, but the Eagles closed the gap to 2923 with seven of the last eight points of the half. Wacha scored three of the points.
The Wolves opened the third quarter with seven of the first eight points. Hamilton scored four points and St. Marks hit a three-pointer during the streak.
Sidney struck for seven straight points late in the period to close the margin to 42-35 after three quarters of play.
Hamilton
Wolf Point's Sierra Hamilton puts up a shot during the game against Sidney.
(Photo by Bill Vander Weele)