Posted on
Indians Qualify For State Meet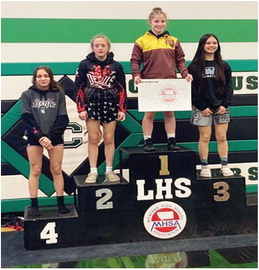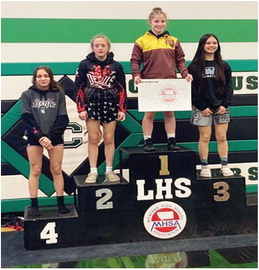 Poplar's wrestling program enjoyed good success at the divisional meet held in Columbus during the weekend.
In the girls' standings, Poplar placed third with 61 points.
Angelina Escarcega earned first place at 100 pounds. She pinned Huntley Project's Gracie Murray in 1:04 for the championship.
Blake Follette placed second at 107 pounds. She won her first two matches on a pin and a 9-7 decision. She was pinned in the title match.
Kacie Colgan took fourth at 114 pounds. After losing in the first round, Colgan pinned Harlem's Izzy Baker in 3:47 to advance to the third-place match.
Alara Parshall placed seventh at 120 pounds. She won two matches on pins.
In the boys' division, the Indians placed 11th with 60 points.
Navarjo Escarcega took second place at 126 pounds. After winning his first two matches on falls, he scored a 14-4 major decision victory in the semi-final round. He dropped a 7-2 decision in the championship match.
Aries White Tail Feather earned second at 285 pounds. White Tail Feather scored pins in his first three matches. He lost a 6-1 decision in the title match.
Craig Berg placed sixth at 170 pounds. He scored three pins during the tournament.
Rollen Spotted Bull placed eighth at 285 pounds. He won one match on fall and another on a decision.
The state meet starts Friday, Feb. 10, in Billings.
Divisional Champ
Poplar's Angelina Escarcega earned first place at 100 pounds at the divisional wrestling meet. (Photo submitted)