Posted on
Froid/Lake Girls Lose Against Poplar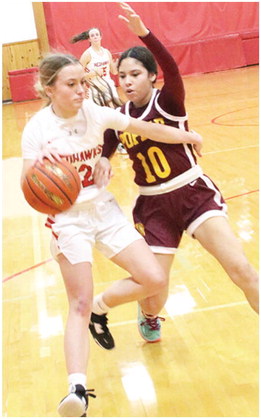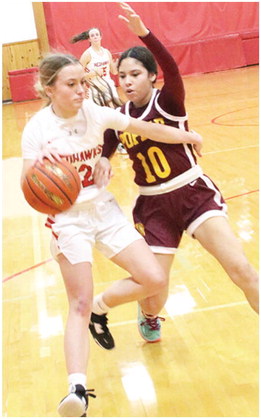 Poplar put together a 19-0 streak during a stretch in the third quarter and won on the road against Froid/Lake, 6661, on Friday, Feb. 3.
The Indians trailed by a 4032 margin two minutes into the second half before accounting for the strong run. Three-pointers by Morgen Nordwick and Jazmyn Carry Water started the streak. A pair of free throws by M. Nordwick tied the game at 40-40.
A steal and drive by Carry Water and four straight points by M. Nordwick, including a basket off a pass from Mattie Falls Down, put the Indians ahead 46-40.
Another hoop by Carry Water, a free throw by EmmaRae Martell and a drive by M. Nordwick put Poplar ahead by a 51-40 margin.
Froid/Lake's Dasani Nesbit scored to cut the gap to 51-42 at the end of the third quarter.
A three-pointer by Carry Water put the Indians ahead 60-49 with 3:20 left, but the Red Hawks kept battling back. A basket by Isabelle Nordwick and a three-pointer by Nesbit closed the margin to 60-54 with 2:30 remaining.
The Indians moved ahead 66-56 on two drives by Rikki Belton and a hoop by Falls Down with only 1:10 left.
Poplar's top scorers were M. Nordwick with 26 and Carry Water with 13 points.
Also scoring for the Indians were Kessee Erickson with six, Falls Down with six, Belton with six, E. Martell with four, Cammie Martell with three and Braelyn Nordwick with two points.
Leading the Red Hawks were Baylee Davidson with 25 and Nesbit with 20 points. Also scoring were Brooklyn Nordwick with nine, Mara Salvevold with four, I. Nordwick with two and Lilly Johnson with one point.
Poplar led by a 15-14 margin at the end of the first quarter and 27-20 midway into the second period.
Three points by Nesbit and a hoop by Brooklyn Nordwick, off a great bounce pass from Nesbit, closed the margin to 27-25. Five points by Davidson put the Red Hawks up 30-27.
Nesbit led the Red Hawks to a 34-29 advantage, but a three-pointer by Morgen Nordwick cut the margin to 34-32 at the end of the half.