Posted on
Edith Alberta Bigleggins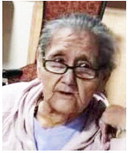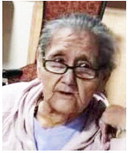 Edith Alberta Bigleggins, "Little Door Woman", 81, died Feb. 2, 2023, in Frazer.
She was born Dec. 24, 1941, to Robert Welch and Beatrice Brown.
She met Garret Joseph Bigleggins Sr. and they were married in July 1960.
She lived on the west end of Frazer, but also lived in California for 10 years, where she did many things like picking strawberries. She moved back to Frazer where she resided until her death.
She worked as a senior citizen cook, at Spotted Bull as an AA counselor and at the Glasgow Air Force Base as a sewer.
Her favorite things to do were playing bingo, painting her nails and spending time with her grandchildren. She