Posted on
Bainville Boys Stop Circle, 59-51, In Conference Play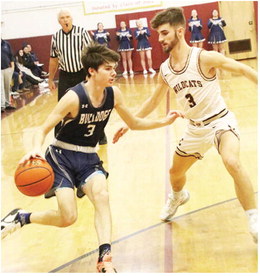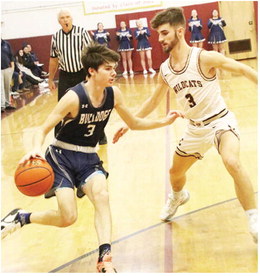 The Bainville Bulldogs got rolling in the second half and captured a 59-51 boys' basketball league victory in Circle on Saturday, Feb. 4.
The Bulldogs trailed by an 18-15 half-time margin and 2418 early in the third quarter until turning the game around with nine straight points. A free throw by Charles Butikofer and a three-pointer by Sam Butikofer got the Bulldogs going. A steal and layup by Alex Strickland followed by a three-pointer by Ayden Knudson put the Bulldogs ahead by three points.
Circle responded with a three-pointer by Beau Beery and three free throws by Owen Beery, but Bainville went back ahead when Knudsen canned a three-pointer and C. Butikofer drove in for a basket.
The Bulldogs led 35-32 at the end of the third quarter and opened the fourth period with a three-pointer by Knudsen.
Bainville increased the margin to 42-34 on a pair of free tosses by Knudsen along with a steal and layup by C. Butikofer.
The Bulldogs maintained the lead, but two hoops by Seth Dyk and a three-point play by B. Beery closed the gap to 51-48 with 2:25 left. A drive by C. Butikofer and a free throw by Cayden Boyd put the margin at 54-48. Free tosses by S. Butikofer and C. Butikofer were good for a 5648 lead with 38 seconds remaining.
B. Beery hit a three-pointer for a 56-51 game with 30 seconds left, but the Wildcats couldn't get any closer.
Top scorers for the Bulldogs were C. Butikofer with 17, Strickland with 16 and Knudsen with 14 points.
Also scoring were S. Butikofer with nine, Reese Harmon with two and Boyd with one point.
B. Beery led the Wildcats with 22 points. Arley Idland and Dyk added seven points each.
The Bulldogs will travel to Plentywood on Friday, Feb. 10, and host Froid/Lake on Saturday, Feb. 11.