Posted on
Wolves Emerge With Victory In Glasgow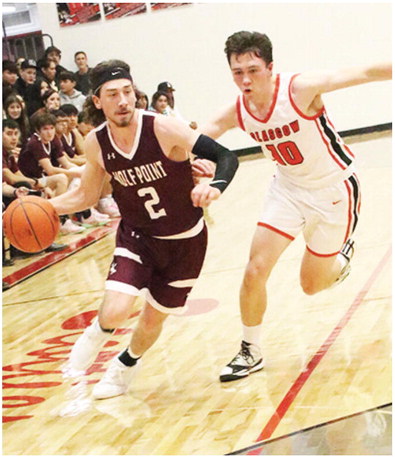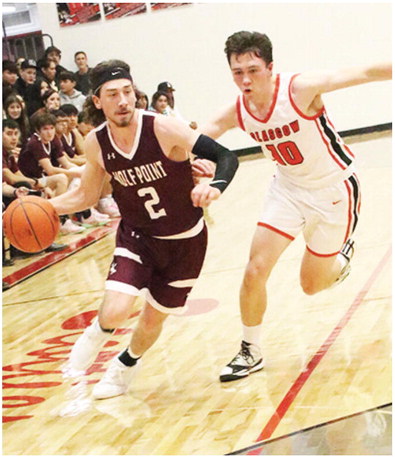 Wolf Point's boys' basketball team struggled, but the Wolves emerged with a 58-52 conference victory in Glasgow on Friday, Jan. 27.
The contest pointed out to the coaching staff areas where the undefeated Wolves still need to improve.
"We didn't have a lot of practice days last week. You can tell that we were off," Wolf Point coach Cole Hanks said.
With several players either slowed or out with injuries, Hanks said getting healthy is a priority.
"We got the win, but we've got a lot of work to do," Hanks said.
The Wolves held a 5045 lead midway into the fourth quarter, but Glasgow closed the gap to 52-50 on a three-pointer by Toryn Richards with 1:07 remaining.
Wolf Point increased the gap to 54-50 on a pair of free throws by Gaige Bushman with 53 seconds left. After Glasgow missed on a shot attempt, Wolf Point's Kelby Bauer put the contest away with three free throws down the stretch.
Top scorers for the Wolves with Juliun Benson with 13 and Bushman with 12 points.
Also scoring were Jack Kolstad with nine, Bauer with nine, Kraven Silk with eight, Lennoxx Lilley with four and Peyton Summers with three points.
Leading the Scotties were Wyatt Babb with 16, Cade Hudyma with 10 and KJ Ingram with 10 points.
The hot shooting of Bauer, Silk and Kolstad led the Wolves to a 20-9 advantage in the first quarter.
Four straight points by Benson put Wolf Point ahead 24-11 with 6:04 remaining in the half.
After the Scotties battled back to 27-19, Kolstad connected with a three-pointer in the final minute of the quarter. A free throw by Lilley put the half-time margin at 31-21.
Glasgow closed the margin to 36-30 late in the third quarter on the scoring of Babb, Richards and Hudyma. Another three-pointer by Kolstad helped the Wolves lead 41-38 at the end of the third quarter.
Four points by Benson and a drive by Bushman put the Wolves ahead 47-40 with 4:44 remaining in the conference contest.
The Wolves will head to Baker on Thursday, Feb. 2, and to Harlem on Saturday, Feb. 4.