Posted on
Wolf Point Speech, Drama Members Entertain During Program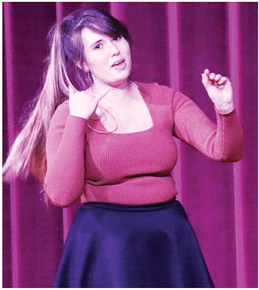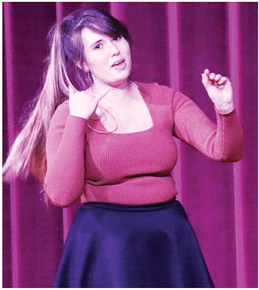 The Wolf Point speech and drama program members displayed their outstanding talents with a showcase held in the school's auditorium on Monday, Jan. 16.
"I have a lot of talented kids here," Coach Jacob Boysun said prior to the performances.
Boysun, who is assisted by Lori Sande, said because the Wolves don't have a local competition, it was good to provide a showcase so area residents could watch the students in action.
The night opened with Chase Adams providing his humorous theatre piece, Shouting Fire in a Crowded
Theater.
Francis Good Track followed with a dramatic oral interpretive regarding recovering emotionally from a house fire.
Ryver Summers then provided an informative presentation regarding the history of Nintendo.
Julianna Garfield, the program's only senior, delighted the audience with her humorous routine titled, Serial Star.
Other performances during the evening were delivered by Quiarrah Rios, Jaycen Williams and Victoria Wozniak, Logan Wolff, Jaila Big Talk, Ryan Schumacher, Tavian Bell, Del Eymard and Cole Boysun and Ellianua Ryan.
With a near record number of 15 students involved, the program has enjoyed a great amount of success this season.
Highlights during the regular season have included earning first place in speech sweeps and second place in drama sweeps at the Froid meet, earning first in speech sweeps and third in drama sweeps at the Miles City meet, placing first in drama and second in sweepstakes in Glendive and earning first place in drama sweeps and second in speech sweeps at the Glasgow meet.