Posted on
Poplar Girls Roll to 74-29 Win Over Harlem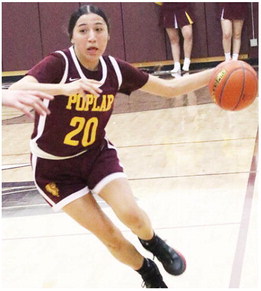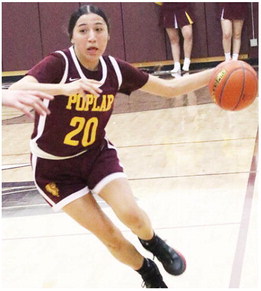 Poplar's girls' basketball squad outscored Harlem in every quarter for a 74-29 home victory on Saturday, Jan. 21.
The Indians jumped out to an 18-8 advantage in the opening quarter. Cammie Martell accounted for nine points including two three-pointers in the period.
Poplar struck for 24 points in the second quarter for a 42-14 lead. Morgen Nordwick had 13 points including three three-pointers in the quarter.
Poplar held a 65-23 advantage after three quarters of play. Kessie Erickson scored nine points in the third quarter.
Top scorers for Poplar were M. Nordwick with 25, Erickson with 19 and C. Martell with 11 points.
Also scoring were Jazmyn Carrywater with five, Bailey Dupree with four, Saydee Archambeault with four, Mattie Falls Down with three, EmmaRae Martell with two and Rikki Belton with one point.
Aaray Mount scored 12 points to lead Harlem.