Posted on
Hot-shooting Lady Wolves Defeat Poplar In Conference Action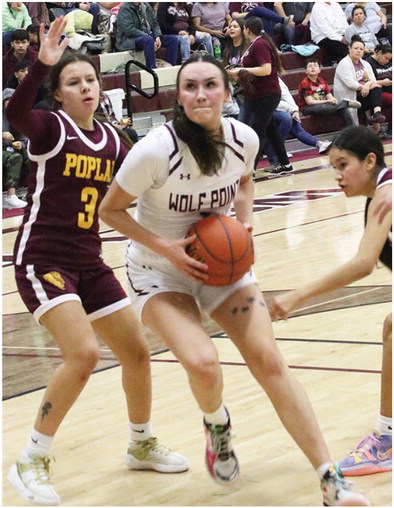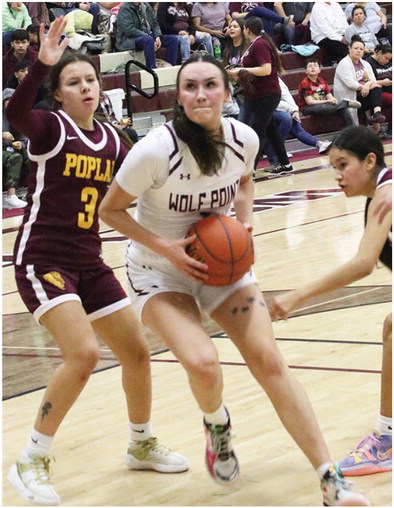 Wolf Point's girls' basketball team accounted for an impressive offensive performance in the second half to down Poplar, 70-53, at home on Friday, Jan. 20.
The Wolves led by only a 29-28 half-time margin and Poplar took a 30-29 lead on a basket off a rebound by Morgen Nordwick to open the third quarter.
Wolf Point then gained the upper-hand with nine unanswered points on a drive by Katelyn MacDonald, a three-pointer by Juellz Bauer, a hoop by Sierra Hamilton off a pass from MacDonald and a steal and layup by Bauer.
After a three-pointer by KJ St. Marks put the margin at 43-34, Poplar's Bailey Dupree scored to pull the Indians to 48-36 with 3:53 left in the third quarter.
The Wolves then used terrific passing to strike for the next nine points on a basket by Hamilton off a pass from St. Marks, a hoop by St. Marks on an assist from Keeley Blount-Henderson, a three-pointer by St. Marks and a nice drive by J'Elle Garfield for a 52-36 lead.
Four straight points by Poplar's Rikki Belton ended the third quarter.
MacDonald accounted for a drive and a pair of free throws to put the Wolves up 56-40 to open the fourth period. St. Marks then fired in two three-pointers for a 6240 advantage with 6:47 remaining.
Four points by M. Nordwick cut the gap to 62-44, but Wolf Point responded with baskets by Hamilton and Blount-Henderson. A three-pointer by Mailey Wells put the Wolves ahead 69-47 with only four minutes left.
Reaching double figures for the Wolves were Garfield with 18, St. Marks with 14 and Hamilton with 12.
Also scoring were Mac-Donald with nine, Azalei Ackerman with six, Bauer with six, Wells with three and Blount-Henderson with two.
Top scorers for the Indians were M. Nordwick with 12, Cammie Martell with 11 and Kessee Erickson with 11.
Rounding out the scoring were Belton with seven, EmmaRae Martell with four, Mattie Falls Down with two and Dupree with two points.
Poplar led 21-14 at the end of the first quarter. A three-pointer by C. Martell put the Indians ahead 24-18 early in the second period.
Wolf Point tied the game with seven straight points on three points by Garfield and two outside shots by Ackerman. The half ended with the Wolves ahead by a 29-28 margin.