Posted on
Poplar Girls Nip Froid/Lake In Close Contest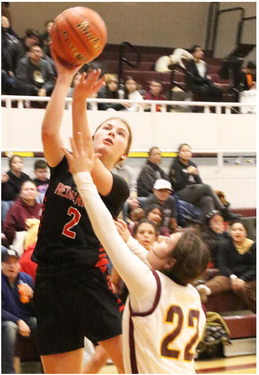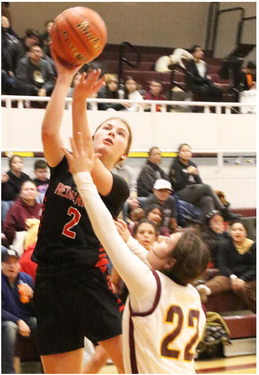 Poplar's Bailey Dupree is only a sophomore, but she showed the composure of a more experienced player when she went to the foul stripe with 2.7 seconds left in the Indians' home girls' basketball game against Froid/ Lake on Friday, Jan. 6.
With the Indians behind by a 61-59 margin, Dupree knocked down three free throws to give the Indians a 62-61 victory.
The Red Hawks held a 4746 lead entering the fourth quarter and increased the margin to 52-46 on a basket by Dasani Nesbit and three-pointer by Baylee Davidson to open the fourth period.
The Indians responded with the next five points on a basket off a rebound by Kessee Erickson and a three-pointer by Cammie Martell. After another three-pointer by Davidson, Poplar pulled even, 55-55, on hoops by Erickson and Rikki Belton.
The sharp-shooting Davidson, who accounted for 24 points in the second half, answered with a three-pointer at the 3:34 mark. The senior then scored off a long pass from Nesbit for a 60-55 advantage with 3:17 remaining.
Poplar kept battling as a free throw and layup by Jazmyn Carry Water closed the gap to 60-58. After a free throw by Nesbit with 52 seconds left, Nesbit took a charge with 48 seconds remaining. The Red Hawks, however, lost possession with 33 seconds left.
The Indians stayed close as a free throw by Braelyn Nordwick cut the margin to 61-59 with 18 seconds remaining.
After the Red Hawks missed from the foul stripe, the Indians raced down and Dupree was fouled while attempting a three-point shot.
Top scorers for the Indians were M. Nordwick with 13, C. Martell with 11 and Dupree with 10 points. Also scoring were Erickson with eight, Belton with six, Carry Water with five, E. Martell with two and B. Nordwick with one point.
Leading Froid/Lake were Davidson with 26 points and Nesbit with 14 points. Also scoring were Mara Salvevold with nine, Brooklynn Nordwick with seven, Addison Elvaas with three and Jaeleigh Davidson with two points.
Poplar entered the third quarter with a 33-30 advantage, but the visiting Red Hawks grabbed the lead when Brooklynn Nordwick scored off a rebound and B. Davidson connected on a three-pointer to open the period.