Posted on
Indians Post Win Over Froid/Lake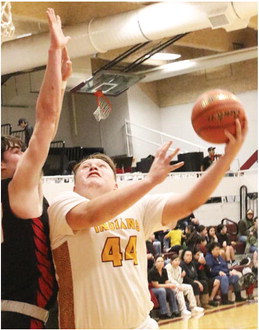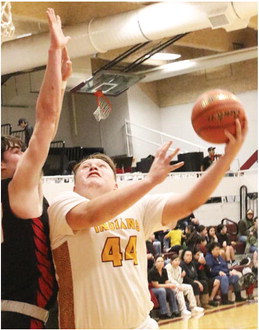 Poplar Indians accounted for an impressive first quarter en route to a 6653 boys' basketball win over Froid/Lake on Friday, Jan. 6.Poplar earned a 27-9 lead in the opening quarter. The Indians struck for 11 of the game's first 13 points on five points by Delray Lilley along with baskets by Kameron Reum, Geordy Medicine Cloud and Walker Burshia.
The Red Hawks struggled with Poplar's trapping defense throughout the quarter, but Patton Bighorn hit a three-pointer and Mason Dethman scored inside to close the margin to 13-7 with three minutes left in the period.
The Indians responded with the next 11 points including a three-pointer and a four-point play by Medicine Cloud. After a drive by Dethman, Reum connected on a three-pointer at the buzzer to put Poplar up 27-9.
Poplar led by as much as a 36-13 margin in the second quarter, but the Red Hawks ended the half with seven straight points on a three-pointer by Bighorn and four points by Nate Stentoft to close the margin to 36-20.
Froid/Lake fought back with nine straight points midway into the third quarter on four points by Dethman, a three-pointer by Bighorn and a drive by Stentoft. Three-pointers by Kaniel Ricker and Lilley gave Poplar the momentum back.
The Indians held a 48-36 lead at the end of the period.
Three-pointers by Lilley and Medicine Cloud along with a free throw by Reum produced a 55-38 lead with 6:41 remaining.
Behind by a 59-41 margin, the Red Hawks put a final run together when the scoring of Dethman, Stentoft and Bighorn pulled Froid/Lake as close as 59-51 with 2:40 left.
The Indians put the contest away on a drive by Ricker and two free throws by Medicine Cloud.
Top scorers for Poplar were Lilley with 21, Medicine Cloud with 18 and Preston Ogle with 10 points.
Also scoring were Reum with six, Burshia with six and Ricker with five.
Leading the Red Hawks were Dethman with 21, Bighorn with 13 and Stentoft with 11. Max Engelke and Caden Kelm added four points
each.