Posted on
Bulldogs Lose Against Top-Ranked Lustre Team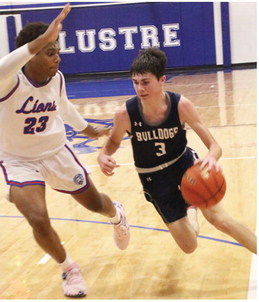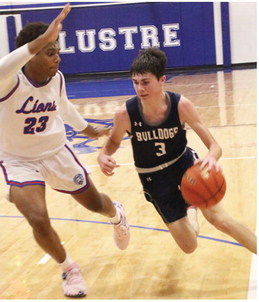 Two previously undefeated teams squared off when Bainville traveled to Lustre for a boys' basketball showdown on Thursday, Jan. 5. Lustre took control in the middle two quarters for a 65-39 victory.
The Bulldogs, led by the scoring of Ayden Knudsen and Alex Strickland, played close with the top-ranked Lions throughout the first quarter. Lustre held a 15-11 advantage at the end of the period.
After Lustre's Elijah Lenihan and Bainville's Knudsen exchanged hoops to open the second quarter, the Lions exploded for the next 13 points.
Alex Chen started the spurt going by nailing a three-pointer at the 6:38 mark. After a drive by Cayden Klatt, freshman Johnslee Pierre scored to put the margin at 24-13.
Two fast-break baskets by Lenihan and another hoop by Pierre put Lustre ahead by a 30-13 score with 2:12 remaining in the half.
A 15-footer by Bainville's Sam Butikofer ended the steak with 1:43 left in the half. The Lions finished the half with a drive by Pierre and a steal and layup by Jasiah Hambira for a 34-15 half-time advantage.
Klatt opened the second half with a drive for the Lions, but the Bulldogs battled back to 38-21 on three-pointers by Knudsen and Charles Butikofer.
Ahead by a 43-24 margin with under three minutes left in the third quarter, the Lions gained a 51-24 lead on a nice fast-break drive by Lenihan and consecutive three-pointers by Klatt.
The Bulldogs ended the third quarter with eight straight points on a drive by Strickland and a pair of three-pointers by C. Butikofer to pull to 51-32.
The Lions outscored Bainville by a 14-7 margin in the final period.
Top scorers for Lustre were Lenihan with 21, Klatt with 12 and Hambira with eight points. Also scoring were Braden Ewing with seven, Pierre with six, Byron Ewing with five, A. Chen with three and Cam Reddig with three.
Leading Bainville were C. Butikofer with 13 and Knudsen with 12 points. Strickland scored nine and S. Butikofer added five points.