Posted on
Bainville Girls Win Game In Lustre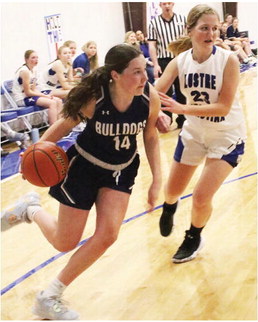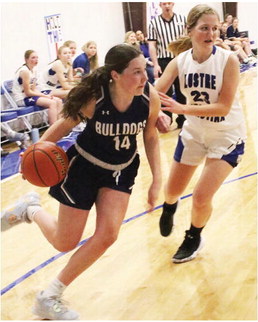 After a close first quarter, Bainville's girls' basketball team used its quickness to down Lustre, 63-30, during non-conference play in Lustre on Thursday, Jan. 5.
A 17-footer by Lustre's Alexa Reddig ended the quarter with Bainville up by only a 1410 margin. The Lions stayed close early in the second quarter as a drive by Aubri Holzrichter and a basket by Grace Brown off a pass from Reddig cut the margin to 1714.
The Bulldogs responded with six straight points. Two baskets by Brecklyn Pippenger, including one after a steal by Miah Pippenger, put the margin at 21-14. Freshman Hailey Berwick then accounted for a steal and layup to put the margin at nine points.
After Lustre's Holzrichter hit a 15-footer, Bainville struck with a drive by Elsie Wilson and a three-pointer by M. Pippenger for a 28-16 advantage.
The Bulldogs ended the half on a strong note when a hoop by Lila Butikofer, off a pass from Wilson, and a drive by B. Pippenger put the score at 32-17.
A three-pointer by M. Pippenger and a free throw by Kendra Romo increased the gap to 38-19 midway into the third quarter. A layup by H. Berwick, after a steal by Tally Berwick, put the score at 40-19. H. Berwick then fired in a three-pointer for a 43-19 advantage.
The third quarter ended with Bainville ahead by a 4723 margin.
Reaching double figures for the Bulldogs were H. Berwick with 18, M. Pippenger with 14 and Wilson with 12 points.
Rounding out Bainville's scoring were B. Pippenger with six, Butikofer with six, T. Berwick with four, Kaelyn Romo with two and Kendra Romo with one point.
Reddig finished the contest with 14 points. Also scoring were Holzrichter with five, G. Brown with five, Hannah Brown with four and Meredith Valentine with two points.
Reddig accounted for all of Lustre's 10 points during the first quarter.