Posted on
Red Hawks Defeat Cowboys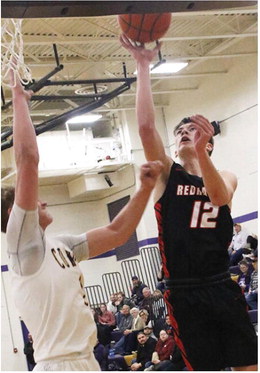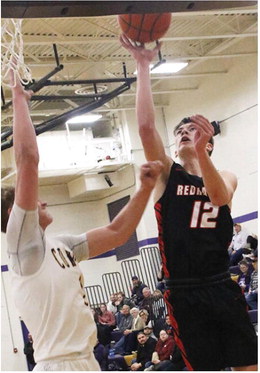 The Froid/Lake Red Hawks pulled away in the second half to edge Culbertson, 50-37, in District 2C boys' basketball action on Tuesday, Dec. 21.
Ahead by only a 22-18 halftime margin, the Red Hawks opened the third quarter with eight of the first 10 points on a drive by Mason Dethman, a three-pointer by Nate Stentoft and a three-pointer by Patton Bighorn for a 30-20 advantage.
Culbertson fought right back when Bridger Salvevold scored inside and Maurice Bighorn put in a basket off an assist from Payton Perkins.
A free throw by Max Engelke and a hoop off a rebound by Dethman increased Froid/ Lake's lead to 33-24 midway into the third quarter.
After a free throw by Perkins and an inside shot by Donte Eagleboy for the Cowboys, the Red Hawks extended their lead on a drive by Dethman and a pull-up jumper by Bighorn.
Culbertson's Perkins scored with 21 seconds to cut the gap to 37-29 at the end of the third quarter.
The Red Hawks gained control to start the fourth quarter when a 17-footer by Bighorn, a three-pointer by Daniel Foriz and a nice drive by Dethman accounted for a 44-29 advantage with 5:15 remaining.
The Cowboys were able to close the margin to 44-33 on a drive by Perkins and a short jumper by Salvevold. The Red Hawks responded with the next three points on a free throw by Engelke and a hoop by Dethman for a 33-24 lead with only 3:15 remaining.
Dethman finished with 21 points to lead the Red Hawks. Bighorn also reached double figures with 12 points.
Also scoring were Engelke with seven, Foriz with five, Stentoft with three, and Joseph Robertson with two.
Top scorers for the Cowboys were Salvevold with 14 and Perkins with 13 points.
Also scoring for Culbertson were Eagleboy with four, Bighorn with two, Avance with two and Nyreece Halvorson with two. Froid/Lake led by a 14-10 margin at the end of the first quarter and held a 22-18 halftime advantage.
The Red Hawks led by as many as eight points during the first half.