Posted on
Poplar Wrestler Off To Strong Start For Minot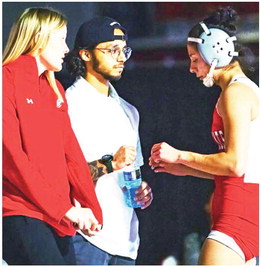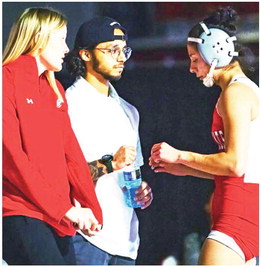 Despite being only a freshman, Poplar's Jazmin Gorder is already taking on a leadership role for Minot State University's women's wrestling program.
When a program is competing in its first year ever, freshmen are the most experienced team members. With a record close to having an even amount of wins and losses, Gorder and teammate Nina Sandoval have been described as the Beavers' leaders. Gorder captured the team's lone victory, a pin at 123 pounds, during a recent dual against Chadron State.
"It's pretty fun," Gorder said of wrestling at the collegiate level. "We're building up. We're all freshmen and figuring it out."
She said the biggest challenge has been the transition from folkstyle to freestyle wrestling. "It's the tiny things that matter," Gorder said.
Another change has been her sleeping habits because she needs to wake up at 5:15 a.m. each morning to attend the 5:50 a.m. practice. "The hardest part is waking up," she laughs.
One of the highlights of the first part of the season was that Gorder earned the first pin for the new women's wrestling program during the Beavers' home debut.
"I thought it was pretty cool," she said of the pin.
The freshman was excited when family members and former high school teammates along with coaches came to watch her compete at her home dual in Minot. "It was nice to see the home crowd again," Gorder said.
She noted her goal for the rest of the season is to learn her techniques better and gain experience.
The Beavers will have their NCAA Super Region Tournament on Feb. 25, in Aberdeen, S.D.
Another highlight for Gorder this spring was running for Minot's cross country squad at the NSIC Championship held in Wayne, Neb., on Nov. 5. She was needed to fill in when the Beavers were short a runner.
"I was excited to see the difference between high school cross country and college," Gorder said. "It was a farther race."
She finished in 99th place out of 141 competitors.
"I wasn't in running shape, but I was excited to be there," Gorder said.