Posted on
Cowgirls Fight Off Froid/Lake During Conference Action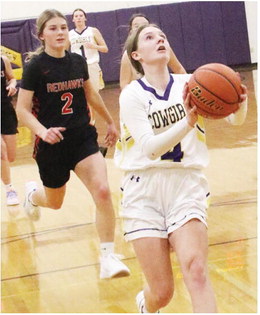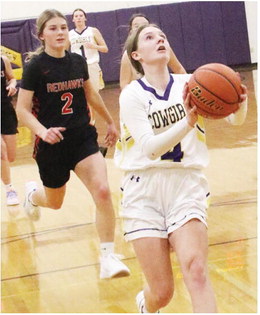 Culbertson's girls' basketball squad held off a comeback by Froid/Lake for a 3934 win at home on Tuesday, Dec. 21.
The Red Hawks trailed by a 27-19 margin entering the fourth quarter, but a three-pointer by Froid/Lake's Baylee Davidson opened the final period. Froid/Lake pulled to 29-24 on an inside shot by Dasani Nesbit. Another three-pointer by Davidson cut the gap to 29-27 with 2:45 remaining.
The sharp shooting of Destiny Thompson led the Cowgirls to the victory down the stretch. The junior fired in a three-pointer with 1:50 left to put the margin at 32-27.
After a free throw by Froid/ Lake's Brooklyn Nordwick at the 1:35 mark, Thompson hit another three-pointer for a 35-28 advantage.
Nesbit tallied three points to pull the Red Hawks to 3731, but two free throws by Thompson put the margin at 39-31 with only 26 seconds left.
Thompson finished with 18 points. Also scoring for Culbertson were Makena Hauge with six, Ayden Ator with six, Perla Burciaga with four, Megan Granbois with three and Alicyn Ator with two.
Nesbit led Froid/Lake with 17 points. Also scoring were B. Davidson with eight, Mara Salvevold with six and Nordwick with three points.
The victory improved Culbertson's record to 6-1 heading into the holiday break.
"We have been playing well," Culbertson Coach Colby McGinnis said.
He says more work needs to be done on the defensive side of the ball during practices.
"Better defense leads to better offense," McGinnis said.
A three-pointer by Thompson ended the first quarter with the Cowgirls up 9-6.
After leading 16-10 at the half, the Cowgirls increased their lead to 19-12 on a threepoint play by Granbois early in the third quarter.
Two baskets by Ator Ator, both off passes by Granbois, put Culbertson ahead by 10 points with two minutes to play in the third quarter. An inside shot by Nesbit ended the quarter at 27-19.