Posted on
Wolves Down Malta, 58-57, In District 2B Battle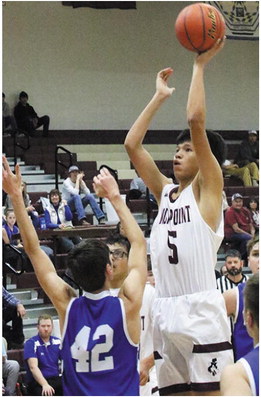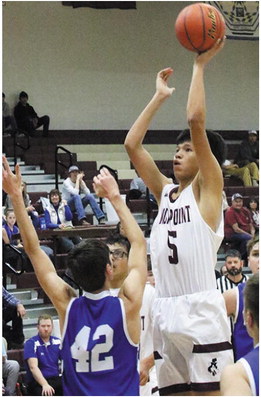 Wolf Point's boys' basketball team made a statement when the Wolves edged traditional powerhouse Malta, 58-57, on Saturday, Dec. 17.
The Wolves lost by wide margins in both of their games against Malta last season, so the victories definitely helped Wolf Point gain confidence early this season.
"Our defense was a lot more engaged," Wolf Point Coach Cole Hanks said of the difference. "We took better care of the basketball. I think they are older and have more confidence."
Kelby Bauer, who finished with 23 points, came up big when the senior hit a three-pointer for a 52-46 lead with 4:08 remaining.
After Malta's Treyton Wilke made two free throws with two minutes left, Wolf Point's Lennoxx Lilley scored off a pass from Peyton Summers to put the margin at 5448 with 1:53 left.
The Mustangs kept the heat on with two free throws by Bohdi Brenden and a drive by Kaden Bishop, but a pair of free throws by Juliun Benson increased the Wolves' lead to 56-52 with 31 seconds remaining. A 15-footer by Brenden pulled the Mustangs to two points with 11 seconds left.
The Wolves then missed from the foul stripe, but Kraven Silk came away with the rebound and was fouled. The senior hit both free tosses to put the margin at 58-54 with 4.9 seconds remaining. Brenden hit a half-court shot at the buzzer to put the final at 58-57.
After Bauer's 23 points, the next top scorers were Benson with eight and Silk with seven. Scoring six points each were Gaige Bushman, Summers and Lilley. Cade Stafne had two points.
Leading the Mustangs were Brenden with 18, Bishop with 15 and Eli Hanson with 10 points.
Three-pointers by Bauer and Silk put the Wolves up 1614 to end the opening quarter.
Five straight points by Bauer helped Wolf Point gain a 23-17 advantage two minutes into the second period. The Mustangs battled back to 29-28 late in the half, but a 12-footer by Summers produced a 31-28 half-time score.
Wolf Point held a 44-40 lead entering the fourth quarter, but Malta quickly tied the game at 44-44.
The Wolves moved ahead 49-46 on two free tosses by Benson, a basket by Summers after a steal by Lilley and a free throw by Silk.