Posted on
Lustre Boys Roll To Victory Over Plentywood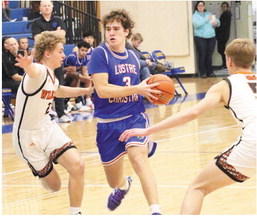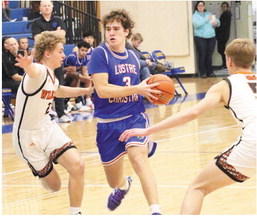 Lustre's boys' basketball squad put on an impressive display as the Lions downed Plentywood, 52-24, at the Scobey Invitational on Saturday, Dec. 10.
The solid Plentywood squad kept the game close early as Lustre led only 7-6 at the end of the first quarter, but the Lions began taking control in the second quarter. Lustre opened the period with the first eight points on a baseline shot by Cayden Klatt, a basket by Byron Ewing after a steal by Clay Reddig, a drive by Elijah Lenihan after a steal by Jasiah Hambira and a pull-up jumper by Hambira.
A drive by Lenihan along with a steal and layup by Bryan Chen put the margin at 19-9. A three-pointer by Klatt led the Lions to a 24-14 halftime advantage.
With the score at 27-19, Lustre gained further control with eight unanswered points on a basket off a rebound by Byron Ewing, a three-point play by Hambira and a three-pointer by Lenihan. Another three-pointer by Klatt put the Lions up 3821 to end the third quarter.
The Lions then put an exclamation point to their performance with the first 11 points of the fourth quarter on a three-pointer by Reddig and hoops by Bradon Ewing, Bryon Ewing, Hambira and Klatt.
Klatt led the Lions with 11 points and Reddig finished with nine points. Adding seven points each were Hambira and Lenihan.
Also scoring were Byron Ewing with six, Braden Ewing with four, Chen with four, Gabe Alves with two and Johnslee Pierre with two.
Noah Murray led the Wildcats with eight points.
Lustre will host Nashua on Friday, Dec. 16, and travel to Culbertson on Saturday, Dec. 17.