Posted on
Cowgirls Edge Bainville Girls by 45-42 Final Margin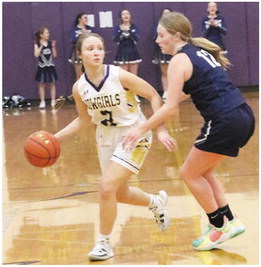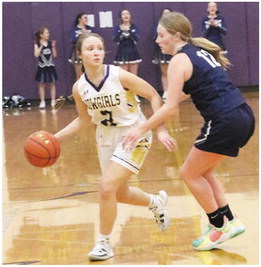 The Culbertson Cowgirls put together a strong start to open the second half and then held off Bainville, 45-42, at home on Friday, Dec. 9.
Behind by an 18-17 half-time margin, Culbertson ran off the first 10 points of the third quarter with a three-pointer by Makena Hauge along with the scoring of Destiny Thompson and Megan Granbois leading the way for a 2718 advantage.
"We shot the ball better in the second half," Culbertson Coach Colby McGinnis said. "We took care of the basketball better, too."
The three-point shooting of Miah Pippenger kept the Bulldogs close at 31-26, but Culbertson scored on a basket on an inbounds play by Hauge and a hoop by Granbois off a nice pass from Perla Burciaga. Bainville's Kendra Romo hit a 12-footer to end the quarter at 35-29.
The Cowgirls increased their lead to 43-33 on baskets by Thompson, Hauge and Burciaga midway into the fourth quarter, but the Bulldogs refused to go away. A three-pointer by Elsie Wilson and a drive by Hailey Berwick pulled the Bulldogs to 43-38 with still 2:54 remaining.
After Granbois made a nice inside move for a hoop, Bainville's Tally Berwick connected on a 16-footer with 1:40 left. A steal by T. Berwick and a drive by H. Berwick kept the Bulldogs within reach at 45-42 in the final minute.
The Cowgirls were able to maintain possession until a missed shot gave Bainville the ball with only three tenths of a second remaining.
The contest ended on an exciting note when H. Berwick caught the inbounds pass and fired a one-handed shot from about 35 feet out. The ball hit off the backboard and went into the basket, but officials ruled the shot came after the buzzer.
Top scorers for Culbertson were Thompson with 14, Hauge with 13 and Granbois with 11. Also scoring were Ayden Ator with five and Burciaga with two points.
Wilson led Bainville with 15 points. Also scoring were M. Pippenger with eight, H. Berwick with six, Brecklyn Pippenger with five, Romo with four and T. Berwick with four.
After the Cowgirls gained an 8-3 lead in the first quarter, the rebounding and scoring of B. Pippenger closed the gap to 8-6.
Six straight points by Wilson put Bainville ahead by a 12-8 margin. The Cowgirls responded with the next five points on three points by Granbois and a pair of free throws by Ator.
After a steal by Romo, Wilson scored for a 1414 deadlock. H. Berwick then accounted for a steal and layup to put the Bulldogs ahead. Bainville held on for an 18-17 half-time lead.