Posted on
Lady Wolves Start Season By Stopping Glasgow, 43-31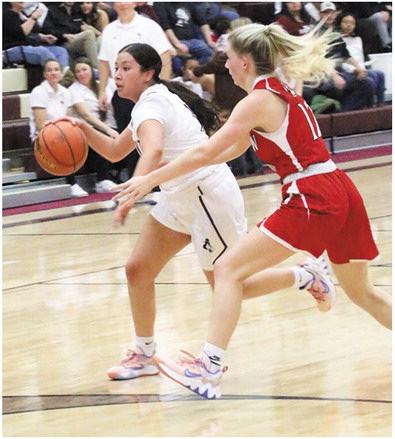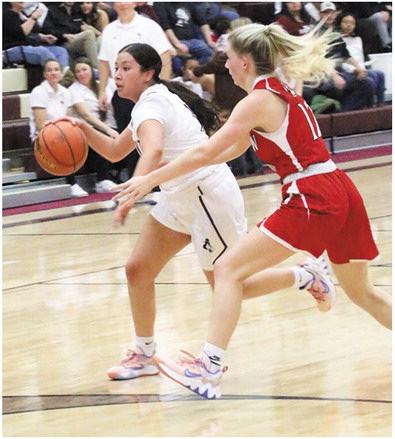 Wolf Point's girls' basketball team played a solid defensive game and shook off some opening season nerves to stop Glasgow, 43-31, to open their season at home on Friday, Dec. 2.
Wolf Point coach Frank Benson was pleased to earn a conference victory on opening night.
"It was a fun game," Benson said. "First games are always tough."
He noted that it took a total team effort as some of the Wolves battled foul trouble against Glasgow.
"The girls coming off the bench didn't do badly either," he said.
After leading only 8-5 at the end of the first quarter and 8-7 midway into the second quarter, the Wolves gained some breathing room when Sierra Hamilton scored inside and then Katelyn Mac-Donald accounted for a steal and layup.
Consecutive three-pointers by KJ St. Marks put the Wolves up by an 18-9 margin with 2:09 left in the first half.
A basket by St. Marks after a steal by Mailey Wells helped Wolf Point earn a 2013 half-time advantage.
The scoring of J'Elle Garfield and Hamilton kept the Wolves in the lead during the third quarter. Garfield then accounted for four straight points to put Wolf Point up 30-23 at the end of the period.
Wolf Point enjoyed a good start of the fourth quarter as a drive by Garfield and a three-point play by Hamilton produced a 35-25 lead. A free throw by Keeley Blount-Henderson increased the gap to 11 points.
A baseline shot by Hamilton and a hoop by MacDonald increased Wolf Point's lead to 40-26.
MacDonald then connected on a three-pointer for a 43-27 margin with less than a minute remaining.
Hamilton led the Wolves with 13 points. Also reaching double figures were St. Marks with 11 and Garfield with 10 points, MacDonald finished with seven points. Blount-Henderson had one point.
Leading the Glasgow Scotties were Daley Aune with 10 points and Joely Chappell with seven points.
The Lady Wolves will play at the Lockwood tournament on Dec. 9-10.