Posted on
Wolves Earn Academic All-State Honors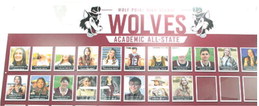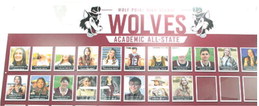 Wolf Point High School is saluting 20 student athletes with a display near the weight room to recognize their Academic All-State honors.
To achieve Academic All-State honors, a student must maintain a 3.5 or higher grade point average while being active in a fall sport.
Members of the volleyball team earning the honor included J'Elle Garfield, Mahala Moran, Katelyn MacDonald, Kaylee Johnson, Kylie Rodenberg, Sierra Hamilton, Joli Beston, Azalei Ackerman, Gabrielle Four Bear, Kashlynn Speak Thunder and Lauren Rodenberg.
Selected for the football team were Michael Bell, Kraven Silk, Preston Swenson and Maddox Reum.
Cheerleaders named were Julianna Garfield, Rebekah Landsrud, Naveah Graham, Isabella Sanchez and Logan Wolff.
Having 4.0 grade point averages were J'Elle Garfield, Moran, MacDonald, Julianna Garfield, Johnson, Kylie Rodenberg, Lauren Rodenberg and Speak Thunder.