Posted on
Poplar Returns State Champ, Placers For Wrestling Season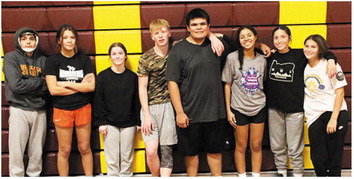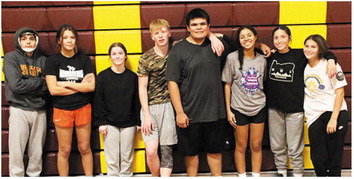 Poplar's wrestling program aims to make a lot of noise this season with the return of several standouts for the Indians.
The program, under the leadership of coach Jason Frederick, features six boys and five girls this year. The Indians will open action at the Eagle Invitational in Sidney on Dec. 2-3.
Poplar's list of returning athletes on the boys' side includes Navarjo Escarcega and Landon Young. Both wrestlers qualified for the state meet last season. Escarcega will wrestle at 120 or 126 pounds, and Young will compete at 113 or 120 pounds.
Gage Berg, at 160 pounds, also returns with a lot of experience on the mats.
Aries White Tail Feather, a junior heavyweight, is back out for the sport after sitting out his sophomore season.
Freshmen on the squad are Xavier Walking Eagle and Travis Pribbernow.
Defending state champion Angelina Escarcega highlights the roster for Poplar's girls' team.
Precious Keiser, who placed fourth at last season's state meet, will also be back for the Indians this campaign.
Freshmen for Poplar's girls include Blake Follette, Kasey Colgan and Alara Parshall.
"All of the freshmen have good experience and are tough wrestlers," Frederick said.
After placing fifth for all classes last year, the Indians should rank near the top at the state meet again this season. One change is that the girls' state competition is now divided between Class AA and classes A, B and C. Only Class AA schools scored more points than Poplar at last year's state meet.
"My goals are to keep everybody healthy and make a run at State," Frederick said.
Poplar's Wrestling Schedule
Dec. 2-3: at Eagle Invitational (Sidney) Dec. 7: at Circle Dec. 9: at Wolf Point Dec. 10: at Glasgow Dec. 15: at Fort Benton Dec. 16-17: at Great Falls CMR tournament Dec. 20: Poplar mixer Jan. 5: at CJI mixer Jan. 6-7: at Cut Bank Jan. 10: at Circle Jan. 12: at Fairfield Jan. 13-14: at Choteau Jan. 17: Poplar mixer Jan. 21: at Forsyth Jan. 22: at Matador (Wyoming) Feb. 4-5: Divisional (Colstrip) Feb. 11-12: State (Billings)