Posted on
Students Entertain During Fine Arts Show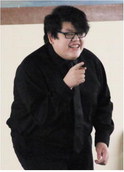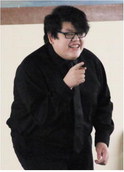 It was a weekend celebrating the high school's fine arts students in Wolf Point. The Wolf Point High School fine arts extravaganza was conducted both Friday, Nov. 18, and Saturday, Nov. 19, at the First Lutheran Church.
Both performances were fairly well attended. Profits went to the school's music and drama departments. Russell Johnson is the music director and Jacob Boysun is the speech and drama program advisor. "We're both excited about trying something different," Johnson said prior to the show on Saturday.
Performances included the swing choir singing Ding Dong Merrily on High and drama student Del Eymard providing a skit regarding graduation. Tavian Bell and Ryver Summers then entertained with a skit about finding a prom date.
After the swing choir sang Breath of Winter, Chase Adams delivered a skit titled,
Shouting Fire in a Crowded Theater. Providing other entertaining skits were Cole Boysun, Elliauna Ryan and Ryan Schumacher.
Rebekah Landsrud provided a vocal solo of Breath of Heaven. After the swing choir performed Something Told the Wild Geese, Logan Wolff closed out the night with Night Before Xmas.
Swing choir members included Julianna Garfield, Rebekah Landsrud, Abigail Poune-Curl, Quiarrah Rios, Cole Boysun, Dante Granbois- Dionne, Walker Harmon, Del Eymard, Francis Good Track, Ryan Schumacher and Logan Wolff.
Speech and drama participants were Chase Adams, Tavian Bell, Elliauna Ryan, Ryver Summers, Julianna Garfield, Cole Boysun, Dante Granbois-Dionne, Del Eymard, Francis Good Track, Ryan Schumacher and Logan Wolff.