Posted on
Bushman Earns Accomplishments In Wolf Point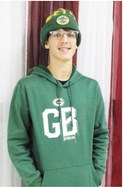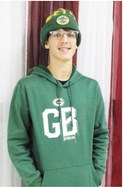 Wolf Point High School senior Gaige Bushman succeeds in sports as well as FFA for the Wolves.
He notes that golf is his favorite activity after putting together a solid campaign as a junior. "I've been excelling in golf lately," Bushman said.
He was the only Wolf Point golfer who qualified for the Class B state tournament last spring.
"It felt good to represent Wolf Point and the team," Bushman said.
After placing 54th at last season's state meet, he aims to place in the top 15 this upcoming season. He spent a lot of time out on the course during the summer in an attempt to reach that goal.
Bushman said his strong point is his short game and thanks Coach Rodney Paulson for helping him become a good golfer.
The senior is coming off a solid football season where he finished with seven receiving touchdowns for a total of more than 300 yards. His favorite receptions were one against Colstrip where he was pushed over but still made the catch and another that covered 71 yards against Baker.
"I felt like we grew and gained confidence which are good points for the football program," Bushman said.
After finishing with a 13-5 regular-season record last season, Bushman said the goal for this basketball season is to qualify for the state tournament.
He enjoys the chemistry that he shares with his teammates.
One of his goals on the team, which doesn't possess great height, is to become more aggressive rebounding. "We have to battle on the boards," he added.
As far as clubs, Bushman said he has gained knowledge through his time with the FFA program.
"I've learned a lot about soils and plants," he explained.
He said his favorite FFA competition is livestock judging.
He lists Dan Horsmon as his favorite teacher. "He's very optimistic," Bushman noted.
Favorite class for Bushman is college English with Douglas Evans. "He pushes us really hard. I feel like it will benefit me in the long run."
After high school, Bushman plans to study business administration in college. He hopes to go into the field as sports recreation or administration.