Posted on
Bighorn Stays Busy With Activities In Culbertson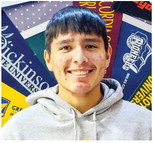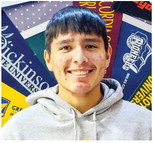 Senior Profile Bighorn Stays Busy With Activities In Culbertson
It can be a challenge to catch Culbertson High School senior Maurice Bighorn. Between participating in a variety of sports and other activities, Bighorn has a full plate.
His activities include speech and drama, the Nakoda Dakota Oyate Youth Council and Jobs for Montana Graduates.
Bighorn especially enjoys being active with NDO. "We do a lot of fun events and help the community," Bighorn explained.
In speech and drama, Bighorn competes in the memorized public address category. Last year, his presentation was Kevin Durant's MVP acceptance speech. This year, Bighorn is working on a speech delivered by Billy Mills.
Bighorn was thankful that he got to meet Mills during a school presentation this fall. "I've always admired and watched him. He's a big idol to me."
Bighorn's favorite sport is basketball where he is a two-year starter for the Cowboys.
"I've been playing it my whole life. It's a big part of my family," he said He is looking forward for the Cowboys to enjoy a successful basketball campaign. During the fall, Bighorn competed in both cross country and football for Culbertson. His play on special teams helped Culbertson's football squad throughout the season.
He placed 83rd at the state cross country meet held in Missoula.
"I'm happy that I didn't stop," Bighorn said of the state meet race. "It was a tough race in Missoula. Overall, I had a good season."
His favorite class is government. "I like learning about the history of government," he said.
He has been attending Culbertson since transferring from Poplar in the fourth grade. "I like my friends and being able to come to school and learn," he said.
After graduating from high school, Bighorn hopes to attend the University of Montana and study tribal government administration.
"I want to bring back my knowledge to our area," Bighorn said.
Maurice Bighorn stays busy with athletics and other activities at Culbertson High School.
(Photo submitted)