Posted on
Red Hawks Stop Valier To Earn Playoff Victory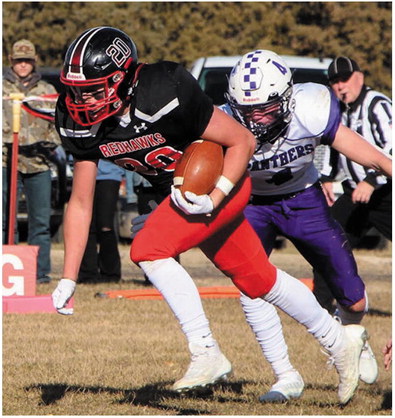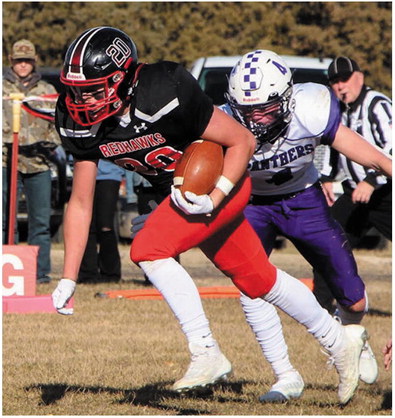 The Froid/Lake Red Hawks appear to be peaking at the right time as they crushed Valier, 44-8, in a quarter-final round football playoff game on Saturday, Nov. 5.
"We just played a complete game, everybody did their job," Froid/Lake Coach Michael Reiter said. "We ran the ball the way we wanted to and our defense played great."
The Red Hawks opened the home contest by stopping Valier on three straight plays on tackles by Mason Dethman, Nate Stentoft and Austen Hobbs. After a punt, the Red Hawks took over on the Valier 27 and quickly moved to the 12 on a 15yard gain by Hobbs. Facing a fourth down at the two, the Red Hawks scored when Dethman grabbed a fumble and got into the end zone.
The score remained at 6-0 until Stentoft reached the end zone on a four-yard run early in the second quarter for a 12-0 advantage.
Froid/Lake was soon back in business when Max Engelke intercepted a pass and returned the ball to the eight. Hobbs scored from the one to put the margin at 18-0 with 3:27 left in the half.
On Froid/Lake's next possession, Dethman broke loose around the right corner for a 65-yard touchdown run to increase the lead to 24-0.
The Red Hawks then stopped the Panthers when Stentoft and Cody Olson combined on a fourth-down tackle. Dethman connected with Engelke on a 34-yard touchdown pass to put the margin at 31-0 with 36 seconds remaining in the half.
The Red Hawks opened the third quarter with a 43--yard scoring drive featuring strong running by Hobbs and Stentoft. Hobbs scored from the one to increase the advantage to 37-0 with 7:36 left in the half.
Froid/Lake's final touchdown came in the fourth quarter when Stentoft scored from the one. Dethman passed to Caden Kelm on the conversion for a 44-0 margin.
Valier scored its only touchdown on a 63-yard run with 6:24 remaining.
The Red Hawks will travel to face Broadview/Lavina in the semi-final round on Saturday, Nov. 12. The Pirates defeated Froid/Lake, 52-6, early in the season.
"We can't play any worse than the last time," Reiter laughed. "They're solid. We're playing better at the right time."
The other semi-final game features Bridger playing at Big Sandy.
"We have to play a solid, good game," Reiter said.
The state title games is scheduled for Nov. 19.