Posted on
Froid/Lake Takes Third At Divisional Tournament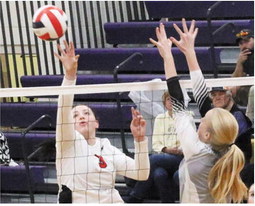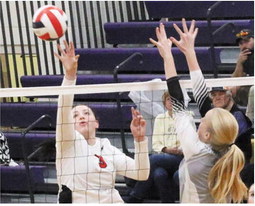 The great comeback run by the Froid/Lake Red Hawks came to an end in the second-place match at the Eastern C divisional volleyball tournament in Culbertson on Saturday, Nov. 5.
The Red Hawks came away with the third-place trophy at the divisional tournament.
North Country edged the Red Hawks by a 25-16, 25-19, 19-25, 13-25, 15-9, final.
After falling in the first two sets, Froid/Lake kept battling and took a 10-9 lead on a kill by Mara Salvevold in the third set. A kill by Salvevold and an ace by Dasani Nesbit increased the lead to 12-9.
Ahead by a 16-13 score, the Red Hawks struck for the next seven points including a kill and two blocks by Nesbit and a kill by Carolyne Christoffersen. Froid/Lake took a 24-16 lead on a hit by Jaeleigh Davidson.
After the Mavericks came as close as 24-19, Froid/Lake ended the third set on a kill by J. Davidson.
In the fourth set, the Red Hawks were ahead by only a 14-10 margin until Nesbit struck two straight kills. An ace by Christoffersen increased the gap to 18-10.
Ahead by an 18-13 margin, the Red Hawks pulled away with the last seven points of the set. The net play of Nesbit and serving of Brooklynn Nordwick highlighted the streak.
The Red Hawks fell behind by a 5-1 margin in the fifth set and then trailed by a 10-3 score.
Kills by Salvevold and Christoffersen led the Red Hawks back to as close as 11-7.
After two kills by Christoffersen kept Froid/Lake close at 13-9, North Country scored the final two points on kills by Teagan Erickson.
Circle defeated North Country in straight sets for the divisional championship.