Posted on
Wolves Surprise Malta At District Tourney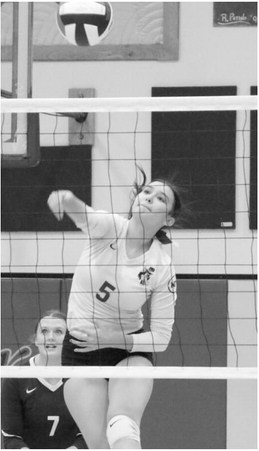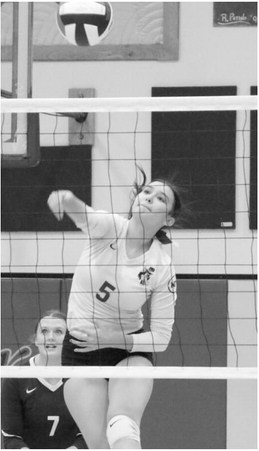 The Wolf Point Wolves shocked Malta in the first round of the District 2B volleyball tournament in Poplar on Friday, Oct. 28.
Wolf Point scored an impressive 32-30, 21-25, 25-19, 2517, victory to capture a berth to the divisional tournament.
The Wolves struggled early in the opening set and trailed for the majority of the set. Behind by a 21-18 margin, Wolf Point pulled even with two kills by J'Elle Garfield and an ace by Kylie Rodenberg.
After Malta regained the lead on blocks by Denvyr Tuss and Giona Lamb, the Wolves tied the score on a kill by Sierra Hamilton and serve by Kataelyn MacDonald. Tips by Hamilton put Wolf Point ahead twice, but Malta fought off set points. The Wolves then saved set points on a block by Kaleah Miller-Toves and a kill by Garfield.
Malta's Isabel Hansen scored a kill to put Malta up 30-29, but Wolf Point earned the set with three straight points on kills by Garfield, Joli Beston and Hamilton.
In the second set, Malta gained a 24-18 advantage and held off the Wolves for a 25-21 victory.
The Wolves fell behind in the third set but battled back on two aces by MacDonald, a kill by Miller-Toves and a kill by Hamilton to cut the gap to 11-10. Wolf Point tied the game, 12-12, on a kill by Miller- Toves.
A kill and strong serves by Hamilton put the Wolves into the lead. With the score deadlocked at 18-18, the Wolves went ahead to stay with six straight points on two kills by Beston, two strong serves by Rodenberg and a tip by Garfield.
In the fourth set, the Wolves were ahead by only a 12-10 margin before putting together an excellent string of volleyball to gain the upper- hand. An ace by Mac-Donald and a kill by Hamilton put the margin at 15-10. An outstanding dig by Rodenberg increased the lead to 16-10.
Another kill by Hamilton and strong serve by MacDonald put the margin at 18-10.
A pair of kills by Hamilton produced a 23-16 advantage. With the score at 24-17, the Wolves ended the thrilling match on a serve by Miller- Toves.