Posted on
Lady Wolves Advance To Divisional Tournament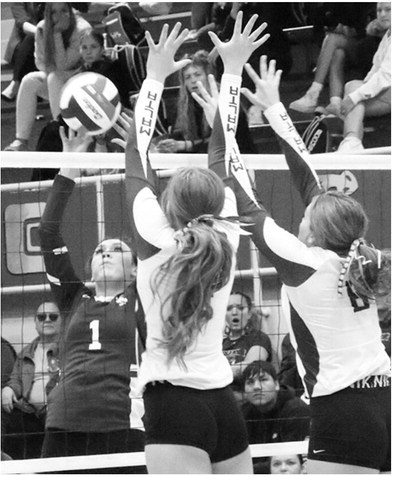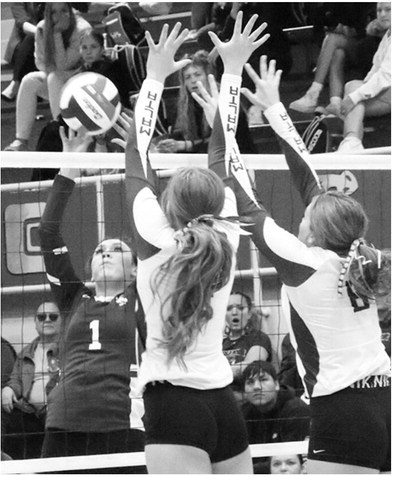 The Wolf Point Wolves played an outstanding final two sets but came up just short against Malta in the second-place match at the District 2B volleyball tournament in Poplar on Friday, Oct. 29.
Wolf Point will now compete at the divisional tournament in Choteau starting on Thursday, Nov. 3. Also representing District 2B will be district champion Glasgow, second place Malta and fourth place Poplar.
Against Malta, the Wolves lost by a 14-25, 13-25, 25-15, 2628 final.
After being outplayed in the first two sets, the Wolves opened the third set by falling behind by a 4-0 margin. The Wolves battled back on spikes by J'Elle Garfield and Joli Beston and then tied the score, 8-8, on an ace by Kylie Rodenberg.
A block by Keeley Blount-Henderson and a kill by Sierra Hamilton put Wolf Pont up 14-9. The Wolves kept playing well as a block by Hamilton and a spike by Rodenberg increased the gap to 19-12.
Ahead by a 23-14 score, the Wolves scored on an ace by Hamilton. After Malta cut the gap to 24-15 on a kill by Allison Kunze, a kill by Wolf Point's Garfield ended the third set.
Wolf Point trailed early in the fourth set but fought back on a kill and ace by Garfield along with a tip by Hamilton. Three tips by Blount-Henderson put the Wolves ahead by a 13-10 margin.
The Mustangs bounced back to 16-15, but Wolf Point responded with a kill by Garfield for an 18-15 advantage.
The M-ettes ran off the next seven points to gain a 22-18 lead. The net play of Giona Lamb highlighted Malta's play.
Malta went ahead 23-19, but the Wolves didn't back down as a tip by Hamilton and an ace by Katelyn MacDonald closed the margin to 23-21. Behind by a 24-22 score, Wolf Point tied the game on a serve by Mahala Moran and a kill by Hamilton.
The Wolves went on to save two more match points, including one on a tip by Rodenberg. Malta won the match when kills by Kunze and Denvyr Tuss resulted in a 28-26 final.
Glasgow defeated Malta, 25-17, 22-25, 25-18, 25-17, in the district championship match.