Posted on
Cowgirls Take Sixth At District Tournament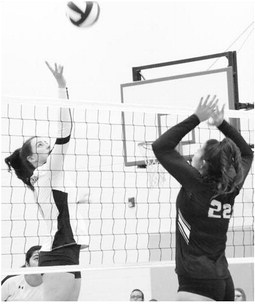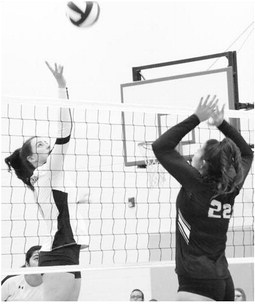 The Culbertson Cowgirls placed sixth at the District 1C volleyball tournament and came just one victory away from qualifying for the divisional tournament.
The Cowgirls lost a heartbreaking fifth-place match against Fairview, 25-21, 22-25, 11-25, 29-27, 12-15 on Saturday, Oct. 29.
Culbertson trailed by a 2219 margin in the fourth set but displayed great character in coming back. Kills by Makena Hauge, Jazzmin Fugere and Destiny Thompson put the Cowgirls up by a 24-23 margin.
With the score even at 27-27, the Cowgirls won the fourth set on a block by Thompson and a tip by Alicyn Ator to force a fifth set.
In the fifth set, Culbertson led by a 10-9 margin but Fairview gained a 13-10 lead.
A kill by Perla Burciaga helped Culbertson cut the gap to 13-12, but Fairview struck for the last two points.
Leaders in kills for Culbertson were Hauge with 23, Thompson with 16, Burciaga with three, Fugere with one, Alicyn Ator with one and Ayden Ator with one. Having blocks were Hauge with four, Thompson with two and Burciaga with one. Serving aces were Alicyn Ator with five, Thompson with four, Fugere with three, Hauge with two and Burciaga with one. Alicyn Ator finished with 33 assists.
Leaders in digs were Hauge with 32, Fugere with 27, Thompson with 23, Burciaga with 22, Ayden Ator with 16, Alicyn Ator with 12 and Leandra Perkins with four.
The Cowgirls opened the day with a tough loss against Plentywood by a 25-21, 12-25, 21-25, 25-18, 9-15 final.
Hauge finished the match with 28 kills.
Also with kills were Thompson with seven, Burciaga with five and Perkins with one. Hauge had eight blocks. Thompson added a block.
Serving aces were Burciaga with four, Thompson with three, Fugere with three, Alicyn Ator with three, Perkins with two and Hauge with one.
Alicyn Ator accounted for 25 assists. Ayden Ator had one assist. Having digs were Burciaga with 13, Ayden Ator with 13, Thompson with 10, Fugere with 10, Hauge with seven, Alicyn Ator with seven and Perkins with four.