Posted on
Big Second Quarter Leads Red Hawks To Playoff Victory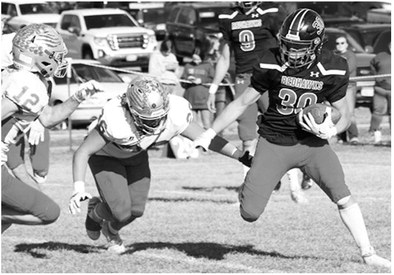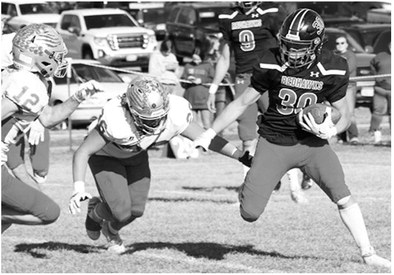 The Froid/Lake Red Hawks overcame a poor start to down Denton/Geyser/ Stanford/Geraldine, 4932, to open six-man football action at home on Saturday, Oct. 29.
Froid/Lake fell behind 20-7 in the first half before exploding for 30 points in the second quarter.
Austen Hobbs broke two tackles on a 47-yard touchdown dash with 8:52 left in the half. Mason Dethman's kick closed the margin to 2015.
On the Bearcats' next possession, a running play went deep into Froid/Lake territory, but Dethman forced a fumble and Daniel Forizs made the recovery at the 12. After Hobbs picked up one first down, a pass interference call put the ball into Bearcat territory.
Two runs by Hobbs resulted in a first down at the three. Hobbs then scored to put the Red Hawks ahead 21-20 with 4:50 remaining in the half.
The Bearcats scored their lone touchdown of the second quarter on a 57-yard reception by Axel Becker with 4:57 left in the half.
On the ensuing kickoff, Hobbs raced 65 yards for a touchdown. Dethman's kick put Froid/Lake back ahead by a 29-26 margin.
The Red Hawks ended the half on a high note when Hobbs scored on a three-yard run with 15 seconds left. Dethman's kick put the lead at 37-26.
Froid/Lake opened the third quarter with another scoring drive. Dethman reached the end zone on a 35-yard keeper run for a 43-26 advantage.
Froid/Lake's defense held the Bearcats on their next possession thanks to a sack by Max Engelke.
The Bearcats were deep inside Froid/Lake territory near the end of the third quarter, but a forced fumble by Quinn Abar was recovered by Nate Stentoft to stop the threat.
After the Red Hawks lost a fumble, the Bears scored on a 20-yard pass from Becker to cut the margin to 43-32 with 8:57 remaining.
The Red Hawks responded with a scoring drive that included a 24-yard touchdown throw from Dethman to Aidan Hernandez with 4:05 left. Dethman's kick was good for a 49-32 advantage.
On the Bearcats' next possession, Froid/Lake's Caden Kelm intercepted a pass with 3:47 remaining.
Froid/Lake's only score in the first quarter came on a 41-yard dash by Hobbs. The Bearcats scored touchdowns in the quarter on a 25-yard pass, a 67-yard run and a twoyard run. The Red Hawks will take on Valier at 1 p.m. on Saturday, Nov. 5, in Medicine Lake. Valier defeated Noxon, 52-8, in the first round.