Posted on
Bainville Stops Fusion At Tourney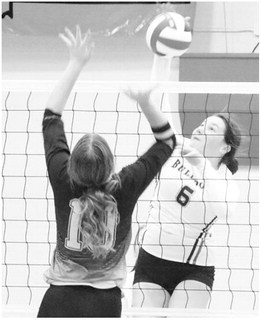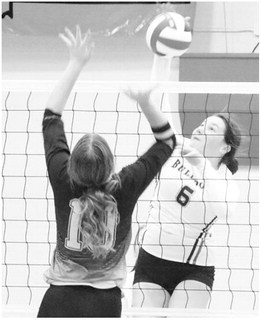 The Bainville Bulldogs edged Richey/Lambert during action at the district volleyball tournament in Plentywood on Friday, Oct. 28.
Bainville scored a 25-23, 2520, 25-22, victory.
The Bulldogs tied the first set at 18-18 on a kill by Brecklyn Pippenger, but the Fusion moved ahead 21-19. Kills by Miah Pippenger and Elsie Wilson put the Bulldogs ahead. A serve by Chandi Johnson was good for a 23-21 advantage.
With the score deadlocked at 23-23, the Bulldogs accounted for the final two points on kills by freshman Hailey Berwick.
Bainville fell behind early 9-5 in the second set but battled back on a tip by Wilson and two kills by Berwick. A kill by B. Pippenger produced a 13-11 lead.
The Bulldogs trailed 19-18 until a kill by Wilson and an ace by Kendra Romo helped Bainville gain a 21-19 lead. Kills by M. Pippenger and Wilson led the way to a 25-20 victory.
The Bulldogs fell behind early in the third set. Bainville was able to take a 15-13 lead on an ace by Wilson and a kill by Lila Butikofer. A tip and ace by Berwick increased the margin to 17-17.
Ahead by only a 22-21 margin, the Bulldogs tallied the next two points on a kill by Butikofer and a kill by Berwick. Bainville ended the match on a kill by B. Pippenger.