Posted on
Wolf Point Comes Up Short In Battle Against Baker Squad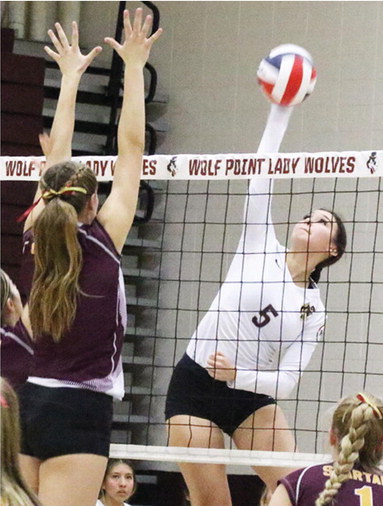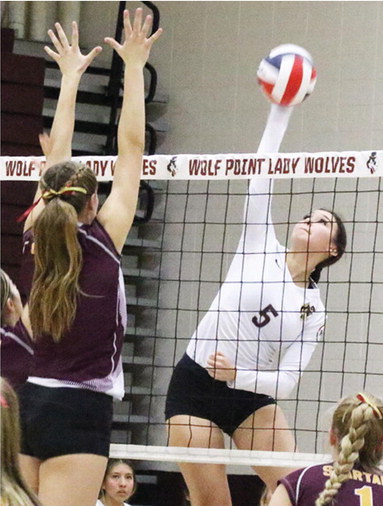 The Wolf Point Wolves got off to a strong start but lost to Baker in non-conference volleyball action on Saturday, Oct. 22.
The Wolves dropped their senior night match by a 16-25, 17-25, 21-25, final.
In the first set, Wolf Point gained a 10-6 advantage on kills by J'Elle Garfield, Sierra Hamilton and Jerzey Azure.
Wolf Point still led 12-9 until the Spartans struck for five straight points on kills by Eve Uecker and Hope Gonsioroski. A block and kill by Gonsioroski put the margin at 18-13, but Wolf Point's Joli Beston scored kills to keep the Wolves close at 20-16.
Baker, however, tallied the final five points of the first set for a 25-16 win.
In the second set, Baker broke away from an 8-8 deadlock to earn an 18-8 advantage.
Katelyn MacDonald served an ace for the Wolves, but Baker then took a 19-10 lead. A tip by Hamilton and a block by Kaleah Miller-Toves closed the gap to 19-12.
The Wolves battled back as close as 23-16 on kills by Miller-Toves and Garfield, but Baker held on for the victory.
In the third set, Baker gained a 17-12 advantage but the Wolves responded with kills by Hamilton and Garfield.
A kill by Beston and two kills by Garfield pulled the Wolves to 22-19. With Baker ahead 23-21, the Spartans ended the match on a kill by Kyal Hadley and a serve by Harlee Graham.
The Wolves will compete at the district tournament in Poplar starting on Friday, Oct. 28. The Wolves will take on Malta at 11:30 a.m. Friday. Harlem meets Poplar at 10:30 p.m. Glasgow enters the tournament as the top seed. The championship match is scheduled for 7 p.m. on Saturday, Oct. 29.

Miller-TovesWolf Point's Kaleah Miller-Toves spikes the ball during the match against Baker. (Photo by Bill Vander Weele)