Posted on
Froid/Lake Defeats Bulldogs To End Regular Season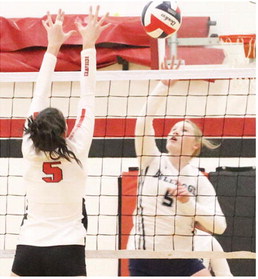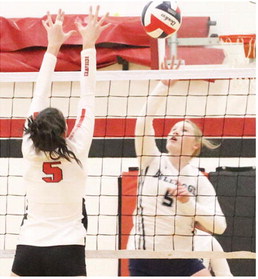 The Froid/Lake Red Hawks clinched first place in the district with a home victory over Bainville on Tuesday, Oct. 18. The 14-team district tournament begins Thursday, Oct. 27, in Plentywood.
Froid/Lake edged Bainville by a 25-11, 25-18, 25-22, margin in Froid.
Froid/Lake took an 8-4 lead in the first set on two kills by Dasani Nesbit and an ace by Makaylee Elvsaas. A kill and ace by Nesbit put the margin at 12-5.
The Bulldogs responded with a kill by Elsie Wilson and a spike by Brecklyn Pippenger, but kills by Carolyne Christoffersen scored two kills for a 17-9 advantage. Another kill by Christoffersen and two net winners by Nesbit increased the gap to 21-12.
Froid/Lake accounted for the set's last three points on a tip by Jaeleigh Davidson and two aces by Christoffersen.
The Red Hawks took a lead in the second set, but Bainville pulled to 13-12 on an ace by Lila Butikofer and a block by B. Pippenger.
A block by Hailey Berwick kept Bainville close at 15-14. The Red Hawks gained a 2116 lead on a tip by Baylee Davidson and a kill by Nesbit. A spike by Christoffersen and a serve by Aleah Johnson put the margin at 24-17. Froid/ Lake ended the second set on a kill by Christoffersen.
In the third set, a kill and ace by Berwick provided Bainville a 9-5 advantage. The Bulldogs stayed ahead until a kill by Christoffersen and two serves by Johnson put Froid/ Lake in the lead.
Down by a 16-12 margin, the Bulldogs fought back on a kill by Miah Pippenger, an ace by Chandi Johnson and an unbelievable dig by Kendra Romo.
A kill by Berwick and a serve by Butikofer put Bainville up 21-19, but the Red Hawks gained a 23-21 lead on a kill by J. Davidson and the strong serving of Elvsaas.
After a kill by M. Pippenger cut Froid/Lake's lead to 23-22, the Red Hawks struck for the last two points including one on a kill by Nesbit.
Bainville's Berwick finished with five kills, one ace and four digs. B. Pippenger scored six kills.
Romo had six assists and seven digs. Butikofer accounted for seven assists and two aces.
The Red Hawks opened the week with a three-set victory over Richey/Lambert.

NesbitFroid/Lake's senior Dasani Nesbit attacks during thematch against Bainville.(Photo by Bill Vander Weele)