Posted on
Indians Lose At Home Against Scobey Squad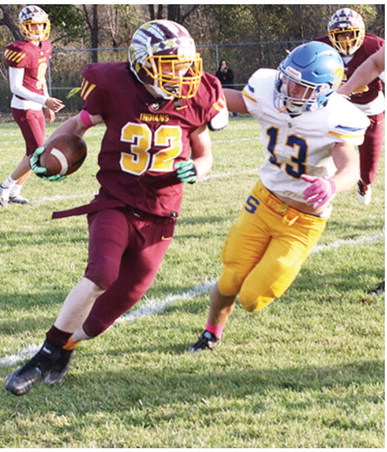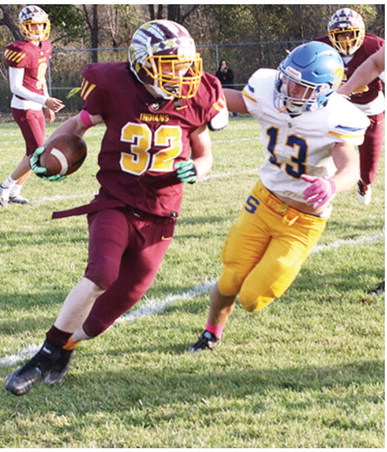 The Poplar Indians played hard for their homecoming football fans but lost to Scobey by a 46-6 margin on Saturday, Oct. 8. Scobey struck quickly as a pass from Boen Tande to Gage Hallock put the ball inside the Poplar 10. The Spartans reached the end zone when 250-pound Tucker Aanstad scored from the one.
Poplar's offense enjoyed a nice start with the running of Gage Berg and quarterback Kameron Reum moving the ball inside Scobey territory. The threat ended, however, on a couple of incompletions.
Scobey then scored on a 24-yard dash by Zakariah Traeholt with 7:02 left in the first quarter. After a blocked punt, Traeholt scored from the six for a 22-0 margin.
Berg accounted for a nice return on the ensuing kickoff. A completion from Reum to Travis Pribbernow put the ball at the Scobey 27. A fumble recovery by Aanstad ended the threat. The Spartans went on to reach the end zone on a two-yard quarterback keeper run by Tande.
After Scobey's Luke Cromwell recovered a fumble, Hallock scored on an eightyard dash for a 38-0 margin with 2:38 left in the opening quarter. The Spartans added another touchdown on a 37yard pass from Tande to Hallock with 8:38 left in the half.
After a scoreless third quarter, the Indians put together a 38-yard scoring drive to open the fourth period. A run by Berg resulted in a first down at the Scobey 27. Facing a fourth-and-15 at the 34, a scramble run by Reum produced a first down at the two.
Reum scored from the two with 8:47 remaining in the conference contest.
One highlight for the Indians during the contest was several nice catches made by junior Quinn Sutherland.
Poplar will finish its season at Circle on Friday, Oct. 14.
Berg
The Poplar Indian's Gage Berg tries to turn the corner and avoid a tackle by Scobey's Gage Hallock during the homecoming game in Poplar on Saturday, Oct.
8.
(Photo by Bill Vander Weele)