Posted on
Wolves Come Up Short In Football Battle Against Malta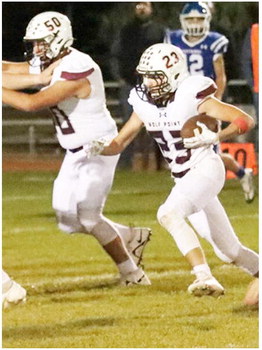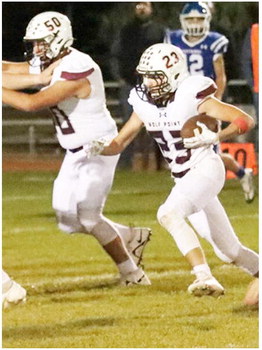 It was a good battle, but Wolf Point's football team lost at Malta by a 28-14 final on Friday, Sept. 23.
The Mustangs accounted for the game's first two touchdowns on passes of 40 and five yards.
After Wolf Point's defense stopped Malta inside the Wolf Point 10-yard line, the Wolves drove the distance to get on the scoreboard. The Wolves scored on a 20-yard pass play from Juliun Benson to Gaige Bushman.
Malta increased its lead to 20-7 on a 10-yard pass in the third quarter.
The Wolves closed the margin to 20-14 when Preston Swenson caught a 21yard pass from Benson late in the third quarter. Swenson kicked both of Wolf Point's conversions.
Down by only six points, Wolf Point drove deep into Malta territory midway into the fourth quarter but came up just short on a fourth-andtwo attempt.
The Mustangs added a touchdown on a 10-yard run with about three minutes to play.
Benson finished with 150 yards passing. Top receivers included Swenson with six catches for 35 yards, Kraven Silk with two catches for 48 yards, Bushman with two catches for 29 yards and Corey Martell with three catches for 38 yards.
Leading Wolf Point's rushing attack were Benson with 72 yards, Maddox Reum with 29 yards and Martell with 24.
Wolf Point Coach Anthony Red Cloud noted that Lennox Lilley had a strong game defensively with six tackles and two quarterback sacks.
Other tackle leaders were Charlie Page with 11, Benson with seven, Martell with six and Michael Bell with six. DaShaun Jackson registered half a sack.
The Wolves will host Cut Bank at 7 p.m. on Friday, Sept. 30.

BensonWolf Point's Juliun Benson breaks loose for a gain in Malta on Friday, Sept. 23. TheWolves will host Cut Bank on Friday, Sept. 30. (Photo by Pierre Bibbs, Phillips County News)