Posted on
Lady Wolves Drop Match To Scotties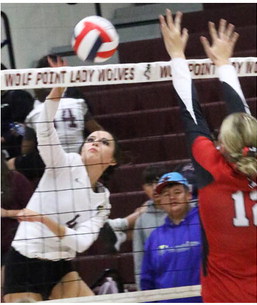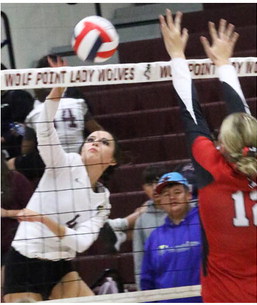 Wolf Point's volleyball squad played very well for two of the sets but dropped a conference match against Glasgow on Thursday, Sept. 22.
Glasgow came away with a 25-13, 13-25, 25-19, 25-11, win in Wolf Point.
The Wolves stayed close early in the first set as an ace by Joli Beston, a kill by Kaleah Miller-Toves and an ace by Katelyn MacDonald produced an 8-8 deadlock.
Glasgow, however, gained a 21-11 lead until a kill by Jerzey Azure put Wolf Point a point closer. An ace by Daley Aune and a kill by Carly Nelson resulted in the 25-13 final.
The net play of J'elle Garfield and Kylie Rodenberg led the Wolves to a 12-5 lead in the second set. Another ace by MacDonald put the margin at 13-5.
A kill by Beston and two aces by Rodenberg increased the gap to 17-6. The outstanding play of Garfield put Wolf Point ahead by a comfortable 20-7 margin.
Wolf Point received kills by Beston and Miller-Toves near the end of the second set.
The third set was a nipand-tuck affair as Wolf Point stayed close on kills by Gabrielle Fourbear, Miller-Toves and Garfield.
A kill by Garfield, a 5-8 senior, put Wolf Point ahead by a 19-18 score. The Scotties responded with the final seven points of the set including three of kills by Tatum Nyquist.
Glasgow jumped out to a 15-7 advantage in the fourth set. After an ace and a kill by Garfield, Glasgow ran off 10 of the match's final 12 points.

GarfieldWolf Point's J'elle Garfield hits a spike during action against the Glasgow Lady Scotties on Thursday, Sept. 22. TheWolves will travel to Poplar to face the Lady Indians on Friday, Sept. 30.(Photo by Bill Vander Weele)