Posted on
Hard Work Pays Off For Senior Student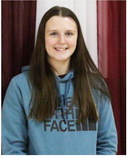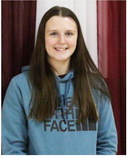 There's doesn't seem to be enough time in a day or enough sports seasons in a year for Wolf Point's energetic senior Katelyn MacDonald.
MacDonald already competes in volleyball, basketball and track for the Wolf Point Wolves. She also loves playing fast-pitch softball during the summer. Still, she would love to find the opportunity to wrestle and box as well.
When she was younger, she enjoyed success as both a wrestler and boxer. She even earned the runner-up honor for top female boxer in the state when she was 11 years old.
She doesn't rule out a return to the ring at some point. "I've been thinking about it a lot lately," MacDonald said of boxing again. "I was pretty good at it. It made me find myself. I was able to view things differently."
For now, she is keeping plenty busy trying to reach goals in school sports. She is co-captain and a four-year starter for Wolf Point's volleyball program. She placed fourth at the state track meet in the javelin as a sophomore. She is also a returning starter in basketball.
MacDonald, who holds the school's record for girls with a dead lift of 315 pounds, is known for her hustle plays and dedication in all sports.
"It's because I really enjoy the feeling of winning," she explained of giving her all on the court. "It's not for me, but it's for my teammates."
Her dedication doesn't stop outside of the athletic fields. She is the student council president, a member of the National Honor Society and also the senior class president.
"I've wanted to be a leader and work to make a difference in the school," she said. "I want it to be more welcoming here."
Just like her junior year, her class load includes three dual-credit courses. She is studying college algebra and introduction to sociology this fall. One of her interests is art, and she earned a first-place honor in the Keep Montana Green art contest for her entry, "Save Our Prairie" when she was a sophomore.
On weekends, she finds time to be a CNA at the hospital in Poplar where she works additional shifts during the summer.
"I love my co-workers and gaining medical experience," MacDonald said. "I learn a lot every single day there."
She's unsure of where she will attend college, but she wants to study nursing. She will probably compete in either volleyball or track at the collegiate level.