Posted on
Red Hawks Down Plentywood, Frazer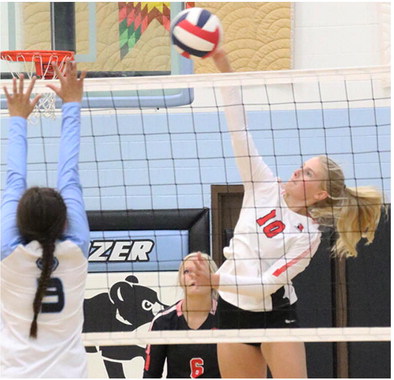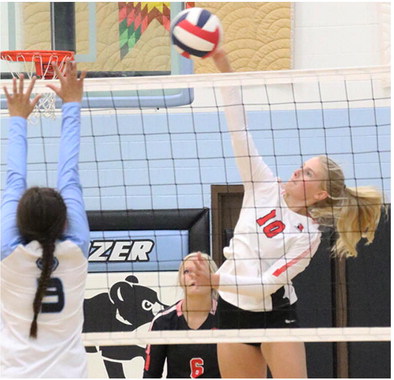 Froid/Lake knocked off Frazer, 25-6, 25-15, 25-10, in conference volleyball play in Frazer on Friday, Sept. 16.
Three powerful serves by Carolyne Christoffersen put the Red Hawks up 10-3 in the first set. Ahead by a 12-6 margin, Froid/Lake struck for the final 13 points of the game as ace serving by Addison Elvsaas led the way. Jaeleigh Davidson scored three kills during the streak.
The Bearcubs started off well in the second set as an ace by Audrey Smoker and a kill by Baily Beston produced a 5-4 lead. A spike and serves by Makaylee Elvsaas put the Red Hawks ahead by a 14-8 margin.
The net play of Mara Salvevold and serving of Christoffersen increased the margin to 20-12.
An ace by A. Elvsaas and a kill by M. Elvsaas helped Froid/Lake earn a 25-15 victory.
In the third set, a kill by Frazer's Beston cut Froid/ Lake's lead to 7-5. Kills by Aleah Johnson helped the Red Hawks move ahead 17-8.
The Red Hawks gained a 21-10 advantage on an ace by Salvevold and a tip by Christoffersen. The last four points were scored on Alexa Nelson's service. The Froid/Lake Red Hawks scored a road victory over a tough Plentywood volleyball squad on Thursday, Sept. 15.
Froid/Lake won by a 29-27, 27-25, 25-23, final margin.
Dasani Nesbit finished with six kills, three blocks, two aces and seven digs to lead Froid/Lake's effort.
Carolyne Christoffersen accounted for eight kills, two blocks and two aces.
Baylee Davidson had 15 assists, one ace and two digs. Aleah Johnson finished with one ace and seven digs.
Jaeleigh Davidson scored five kills. Mara Salvevold added two kills and an ace.
MaKaylee Elvsaas served three aces. Addison Elvsaas had three assists and Alexa Nelson had three digs.
Leaders for Plentywood included Emma Brensdal with four aces, 12 assists, 11 kills and four blocks. Audrey Sampsen and Mallory Tommerup each scored nine kills.