Posted on
Indians Lose League Match Against Malta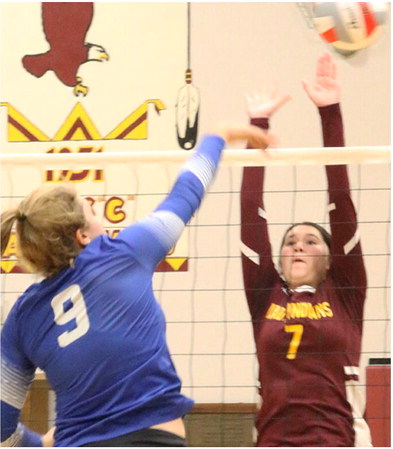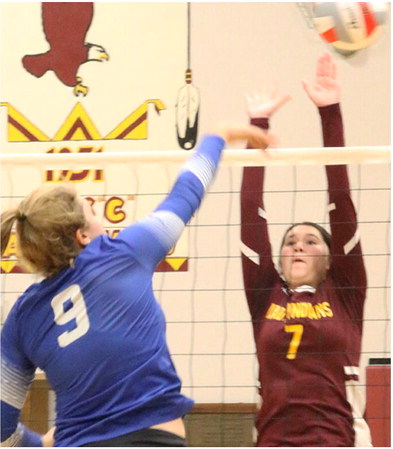 Poplar lost its volleyball match against a talented Malta team, 13-25, 15-25, 22-25, on Tuesday, Sept. 6.
After Malta gained a 13-5 lead in the first set, Poplar scored on a tip by Lainie Moran and a serve by Cammie Martell.
Despite a couple of strong net plays by Poplar's Kessee Erickson, Malta went on to take a 22-11 advantage. An ace by Braelyn Nordwick cut the gap to 22-12, but a kill by Addy Anderson and an ace by Madison Williamson gave the M-ettes a 25-13 victory.
Malta earned an 18-8 lead in the second set, but Poplar put up a battle with a kill and aces by Erickson to pull to 20-14.
A kill by B. Nordwick kept the Indians close at 22-15, but a pair of kills by Denvyr Tuss led Malta to a 25-15 victory.
The highlight for the Indians was a strong start in the third set. Four strong serves by Cammie Martell, a kill by B. Nordwick and a block by Erickson led the way to a 7-0 advantage.
A kill by Morgen Nordwick put Poplar ahead 9-1, but Malta responded to take a 14-12 lead.
The Indians stayed close at 21-19 on a spike by B. Nordwick, but Malta earned a 2522 win.
Poplar will travel to take on Wolf Point on Thursday, Sept. 15.