Posted on
Poplar Athletes Excel At Home Meet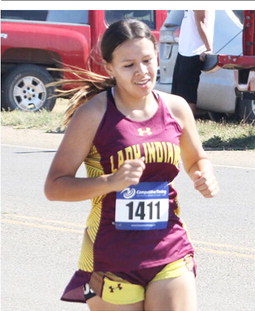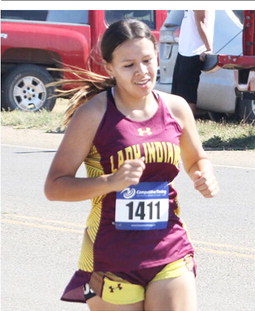 The Poplar Indians had plenty to celebrate at their home cross country meet on Saturday, Sept. 2. Poplar's girls won top honors and the boys placed second only behind Glasgow at the meet.
"Our top six runners for both boys and girls did really well," Poplar coach Karolyn Kohl said.
The Indians ran away with the team title in the girls' division with 45 points. Glasgow took second with 73 points and Scobey placed third with 74 points.
Poplar's junior Reinita Irizarry finished sixth with a time of 22:54.46. Teammate Jazmyn Carrywater was right behind at 23:09.84 for seventh place.
Mattie Falls Down earned 11th place at 24:17.76., Blake Follette took 15th at 25:21.89.
Kacie Colgan had a time of 25:31.93 for 18th place. Bailey Dupree earned 23rd place at 27:07.33.
Caidryn Archambault was 29th at 28:05.58. Alara Parshall took 65th at 36:02.90.
Poplar's boys earned second with 40 points. Glasgow took first with 37 points.
Poplar's Geordy Medicine Cloud finished eighth with a time of 19:58.33. Kaniel Ricker placed 10th at 20:14.69.
Miles Boxer placed 12th at 20:37.03. Navarjo Escarcega took 16th at 21:29.84, and Wilder Bearcub earned 17th at 21:37.41.
Raylando Red Eagle finished 23rd at 22:34.50. Delray Lilley took 26th at 22:40.87.
Finesse Headdress placed 32nd at 23:11.07. Elgin Grey Bear took 37th at 24:16.04.
Two boys finished for Frazer's boys. Ty Fourstar placed 52nd with a time of 27:47.85. Joseph Beston took 55th place at 34:29.90.
Leading Frazer's girls was Angel Nelligan with a time of 27:59.00 for 28th place. Shakira Beston took 39th at 29:25.35.
Brockton's Tamryn Bauer had a time of 29:05.50 for 35th place. Lucille Hart placed 37th at 29:16.66.
Brockton's Taylor Cummins took 59th at 34:55.07. Isabella Apple took 64th at 35:48.32.
Joshua Firemoon led Brockton's boys with a time of 20:59.49 for 13th place. Quinn Dale Prettypaint took 41st at 24:39.11. Ronnie Black Dog placed 42nd at 24:45.16.
Slim Clark took 50th at 27:42.39. Quannah First That Walks placed 51st at 27:47.14.
The Poplar team will compete in Havre on Saturday, Sept. 10.
The Scobey Invitational is scheduled for Friday, Sept. 9, for area Class C teams.

Taking OffRunners start at the beginning of the boys' cross country race in Poplar on Saturday, Sept. 2. Poplar's boys took secondand Poplar's girls earned first in the team standings.(Photo by Bill Vander Weele)


Close RaceBrockton's Joshua Firemoon (left) and Poplar's Kaniel Ricker battle it out.(Photo by Bill Vander Weele)