Posted on
Wolves, Poplar Boys Enjoy Strong Opening Meets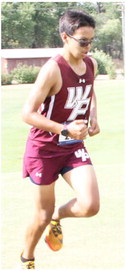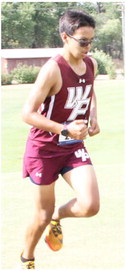 The Wolf Point boys got off to a solid start to the cross country season at their home invitational held at the Wolf Point Airport Golf Course on Friday, Aug. 26.
Wolf Point's junior Peyton Summers captured top honors with a time of 17:30.79 for first place.
"It's better than last year by about half a minute," Summers said after the meet.
He noted that the time was a great starting point to his season.
"Being in the 17s to start is pretty good," Summers said.
Wolf Point's senior Kelby Bauer finished in fifth place with a time of 20:14.22.
"It was alright," Bauer said. He explained he had a good start, fell behind but then made a solid recovery.
Bauer is also playing football this fall and competed in a scrimmage on Thursday night.
"I was excited for both. I was ready," Bauer said.
Richey/Lambert's Matthew Ellerton placed second at 18:59.52, Williston Trinity's Kai Thomas took third at 19:27.99 and Richey/Lambert's Ryan Eggert was fourth at 20:09.83.
Geordy Medicine Cloud led a strong effort by Poplar's boys by placing sixth at 20:17.00.
Also in the top 10 for the Indians were Kaniel Ricker at 20:33.92 for eighth and Miles Boxer at 21:09.62 for ninth.
The Indians placed second in the team standings with 48 points. Williston Trinity topped the field with 42 points. Also in the top five were Plentywood at 67, Culbertson at 80 and Scobey at 98.
Other results for Poplar included Delray Lilley in 23rd at 23:26.61, Wilder Bearcub in 24th at 23:26.75, Finesse Headdress in 32nd at 23:59.48 and Raylando Red Eagle in 37th at 25:33.90.
Frazer's boys were led by freshman Cassius Smoker with a time of 27:53.16 for 42nd place.
Frazer's Ty Fourstar finished 43rd at 28:54.04. Joseph Beston took 47th at 34:27.17.
Results for Brockton included Quannah First That Walks in 30th at 23:56.69, Ronnie Black Dog in 40th at 26:14.42 and Slim Clark in 46th with a time of 32:51.68.
Teams will head to Poplar for the Poplar Invitational on Saturday, Sept. 3.

The StartPoplar's runners take off to begin the Wolf Point Invitational on Friday, Aug. 26. Poplar will host a meet onSaturday, Sept. 3.(Photo by Bill Vander Weele)


Medicine CloudPoplar's Geordy Medicine Cloud finishes strong.(Photo by Bill Vander Weele)


BauerKelby Bauer runs for the Wolves.(Photo by Bill Vander Weele)