Posted on
Poplar Provides Solid Effort In Football Opener Against Harlem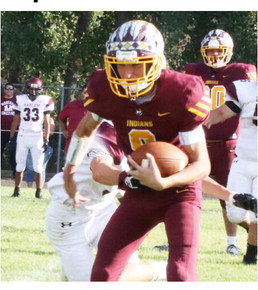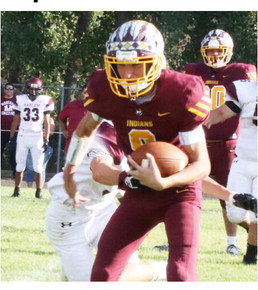 Despite being low on numbers, Poplar's football team turned in a solid effort in its season-opening 28-12 loss at home against Harlem on Saturday, Aug. 27. Harlem held a 20-6 halftime lead with two of the Wildcats' scores coming off fumbles by Poplar. The Indians' touchdown in the second quarter came on a pass play from Kameron Reum to Ivan Iron Cloud.
Poplar's defense came out on a strong note to open the third quarter. Sacks by Aries White Tail Feather and Xander Steele forced Harlem into a fourth-and-28 situation.
A bad snap on the punt gave the Indians possession on the Harlem 34. Poplar's offense, however, couldn't cash in on the opportunity.
Runs by Clay Adams put the Wildcats in scoring position. Harlem scored on a 12-yard dash by Adams with 4:13 remaining in the third quarter.
Quarterback Leon Champagne ran in the two-point conversion for a 28-6 margin.
Poplar responded with a 48-yard quarterback keeper run by Kameron Reum to pull to 28-12 with 3:12 left in the third quarter.
The Indians had a chance to get closer when Cameron Spotted Bird recovered a fumble on the Harlem 32 in the fourth quarter.
Poplar faced a fourth-andtwo situation, but the Indians kept the drive alive on a short pass play from Reum to Iron Cloud for a first down at the 20.
Reum then broke away for a 13-yard gain for another first down at the seven. Harlem's defense kept the Indians out of the end zone midway into the fourth quarter.
A pass interference call put the Indians at the Harlem 34 late in the non-conference contest, but Harlem's defense held with only 1:16 remaining.
Poplar will host Culbertson in conference action at 7 p.m. on Friday, Sept. 2.

Power PlayPoplar's Ivan Iron Cloud looks for running room behind the blocking of Gage Berg. The Indians will start conferenceplay at home against Culbertson on Friday, Sept. 2.(Photo by Bill Vander Weele)